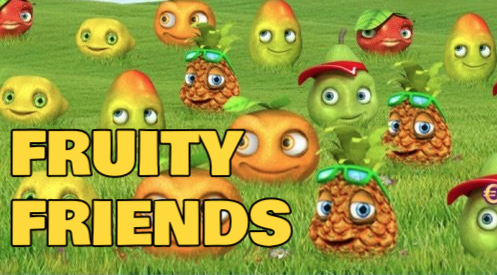 Fruity Friends

V. Caro

Published 06/11-2019
Fruity Friends
In 2012, NeoGames released a new slot machine that would become one of the most well-known slots on the market. This slot took a fun and fruity approach to slot machines which was not something new in casino circles yet still had a great impact. The video slot quickly became one of the games that most Welcome Bonuses would offer Free Spins to, due to its popularity. Nowadays Starburst is the game that most Free Spins are awarded to, yet Fruity Friends continues being one of the games that most people come back to. In this game review, we will go into deeper detail regarding which features this slot offers as well as inform you about the game provider and offer you tips on where you can play this video slot.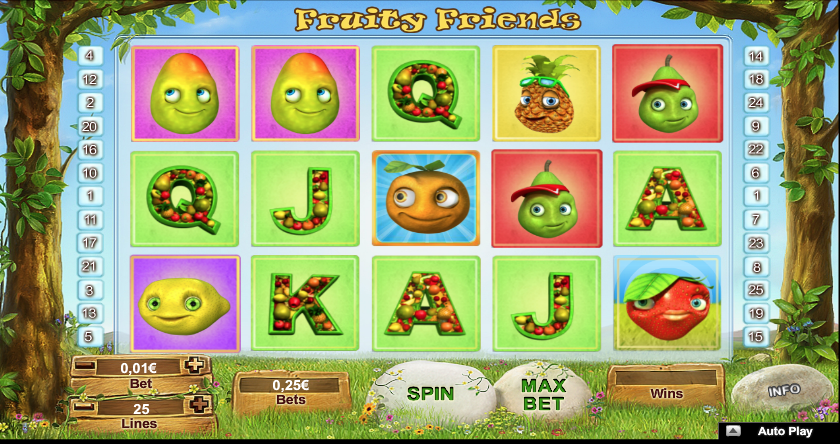 With more than 10 years of experience, NeoGames is not only a capable player on the market but also an accomplished one. This developer is behind some of the most well-known slot machines such as: "Lucky Charm", "Conga Beat", and "Moolah Monsters". It follows the rules and regulations set up by the European Gaming Standards, the UK Gambling Commission as well as the Malta Lotteries & Gambling Authority among others. In addition to this, the developer's games and Random Number Generators (RNG's) have been tested by iTech Laboratories and Gaming Laboratories International (GLI).
Players interested in NeoGames can read more about the developer here.
Details
This slot machine has a lot of the traits of a classic slot machine game. It is constructed like many of the most popular slots are, with 5-reels and 3-rows. There is a total of 25 pay lines that are not fixed, meaning that the player can choose how many pay lines they want to play. The minimum bet in this game (Bet x Lines) amounts to €0.01 while the highest bet is €250. The wide range makes this a game that is popular by both seasoned players as well as beginners. The Return to Player percentage (RTP) is in comparison to other games quite low at only 93% and this, in combination with its medium variance, makes it a game that at times can be difficult, as winnings are sparse.
Not only is the construction of the slot machine classic, but it also uses many symbols that can be seen in both classic online slots and land-based slots. The symbols are fruits like cherries, pears and mangos combined with classic card symbols K, J, Q, and A. The letters in this video slot are filled with fruit. The game-map is placed on a green field surrounded by trees and green grass. The symbols worth the most are the mango and the pineapple. Spinning 5 pineapples give you x5000 your bet. There are three special fruit symbols, the cherries, the orange, and the strawberry, spinning these can affect your balance drastically.
Fruity Friends is a slot that still works on the old Flash system. This means that your browser must have Flash active for the game to work. NeoGames has said that they are moving towards changing all their games into HTML5, and we hope that this change is done soon. With HTLM5 there is no need for any extra downloads and the games work perfectly on both stationary and hand-held devices. At the moment due to Fruity Friends still being on a Flash platform it can be hard to make it work on your smartphone or tablet device.
Game Features
So far, this game has been all about being a classic game. It has both a classical build-up and design as well as using typical casino symbols, but what sets a game apart from the rest is not only these technical things but also the game features. Fruity Friends offers three special symbols, each connected with a special feature which we will explain in this section.
Cherry Wild
The Cherry symbol is one that we often see in connection to casinos. In Fruity Friends this symbol is our Wild and will substitute all other symbols except the orange and the strawberry. In addition to this, just two of these symbols will give you x10 your bet and 5 of these will give you up to x10.000 your bet.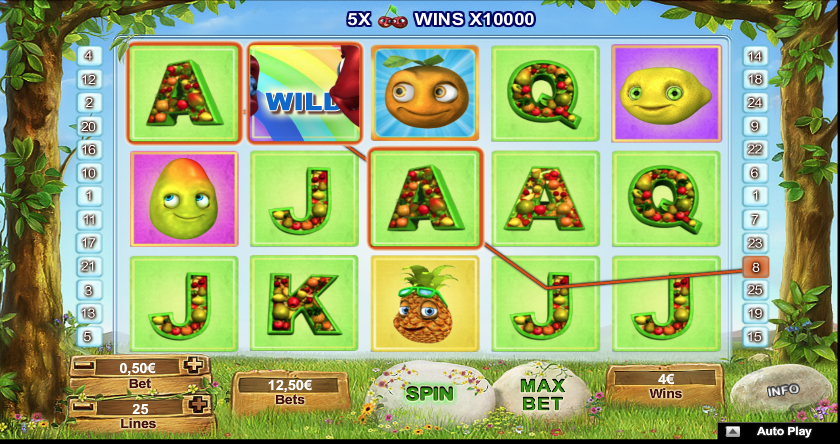 Orange Scatter
Everybody loves Free things, whether it is free hugs or free spins, this is something for us and luckily Fruity Friends does not disappoint. With their Orange symbol, the possibility of landing Free Spins exist. Land three oranges and choose an orange basket. The Basket will then reveal if you will receive 10, 20 or 30 Free Spins. In addition to this, Wild and Scatter symbols are much more prevalent in the Free Spin mode. Unfortunately, it can take a lot of time to land three oranges.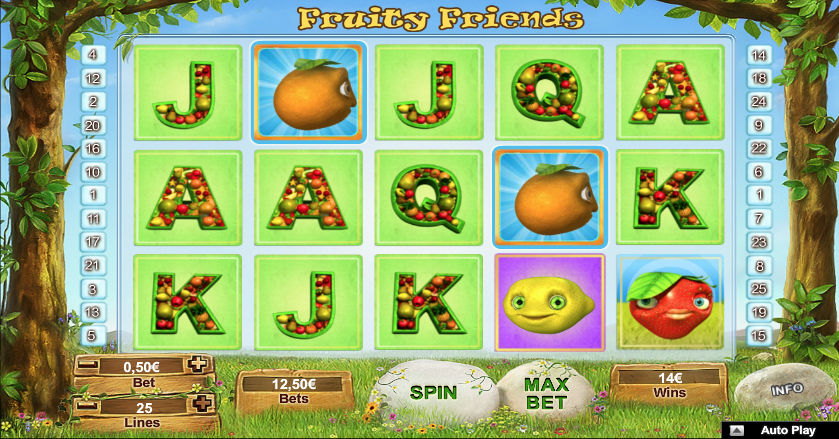 Strawberry Bonus Game
Landing one strawberry symbol on reel one and five simultaneously activates Fruity Friends bonus game – Fruity Field. In this game, you have to pick your favourite fruits from a field and each fruit will have a hidden surprise, usually consisting of multipliers or increased cash-prices. Once we have entered this game we do not get to pick as many fruits as we want. The amount of fruits that can be picked is chosen at random. Some fruits contain cups, the cups are the multipliers in this bonus game.
At the end of the game, when the player can't pick any more fruit the total will be tallied up inside a juicy strawberry.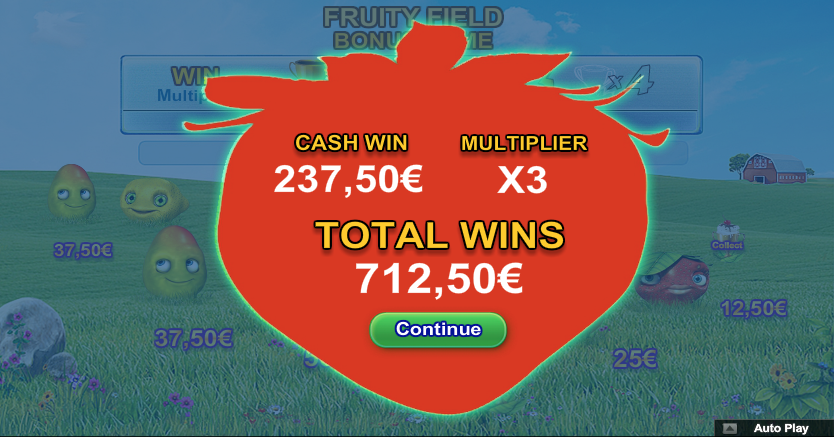 Conclusion
Unfortunately, we at FindFairCasinos find the graphics and animations used in this video slot to be sub-par in comparison with many other games offered by NeoGames and other developers. Combining the not too good graphics with the fact that it is hard to get this game on hand-held devices mean that this might not be the first game we recommend our players to play but the features which are included in this game are interesting so totally ignoring this game would also be wrong from our side.
It would also be wrong for us to ignore it because of its significance in online casino culture. This game is a game that everyone will play at least once in their casino lifetime. Knowing that it has interesting extra features like the Free Spins and the Bonus Game makes it even more enticing. We recommend this to all players who do not mind medium volatility games and the relatively low RTP.
If you are excited about making Fruity Friends we recommend one of these casino`s: