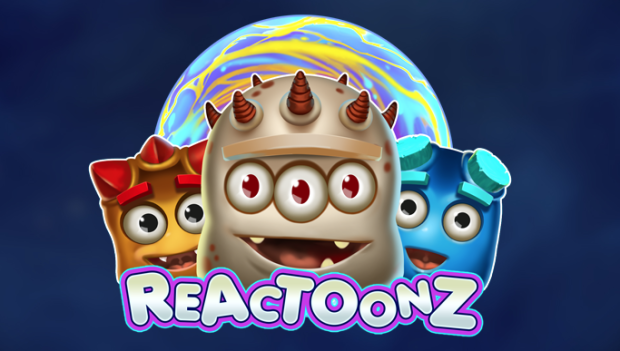 Reactoonz

Jonas Riis Vestergaard

Published 11/11-2019
Reactoonz is the prequel to Play'n Go's Energoonz which is build up around the same theme, extraterrestrials. Reactoonz is a parallel universe to our own filled with power and prizes. In the game, aliens drop from above and fill the game screen a 7x7 grid. This cascading symbol feature is not something you will see in a lot of slot machines and is therefore something we at FindFairCasinos appreciate about Reactooonz. To win players need to get a cluster of 5 or more aliens of the same color on the game screen.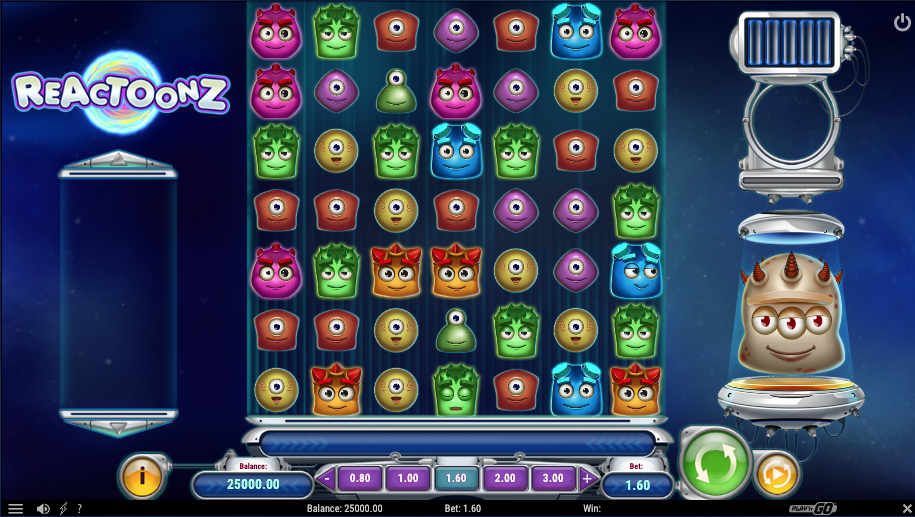 The game was released October 24, 2017 by the aforementioned Play'n Go. Play'n Go is an award-winning game supplier that has created fan favorite slot machines like "Tower Quest", "Grim Muerto" and "Gemix slot". They are one of the most well-known game developers on the market, and they have been there a long time, since they were founded already in the 1990s. Play'N Go are licensed and regulated by the Alderney Gaming Control Commission, the UK Gambling Commission, the Malta Gaming Authority, the Belgian Gaming Commission and the Romanian Gaming Authority. Furthermore, their Random Number Generator (RNG) is tested by an independent testing agency. All of these features are measures taken to provide a safe and fair service to all who play their games.
Details
This slot machine is quite unlike other online video slots out there. To start with, it has a 7x7 grid, not the usual 5 reels and 3 rows, and it doesn't have any pay lines. You create wins by getting a cluster of the same extraterrestrial, for example, 5 of the green alien.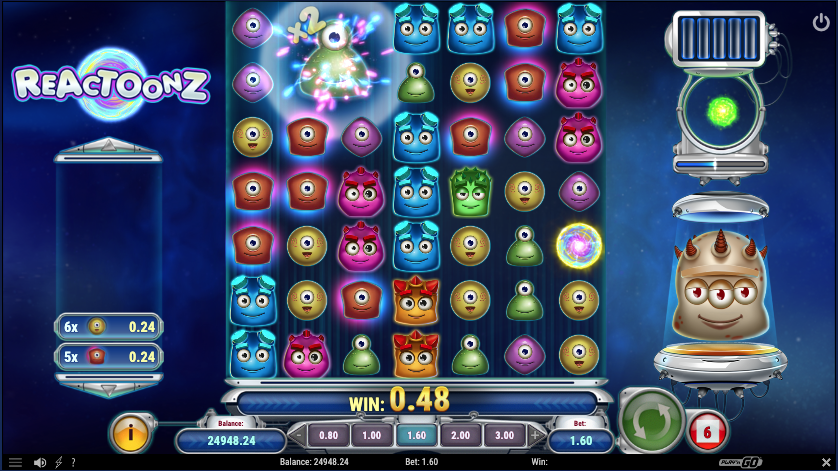 Furthermore, it has a 2x multiplier when there is a 2x2 square of the same alien. The games minimum bet is 0.20€ and maximum bet is 100€. The volatility of the game is high, so the game would be best suited for players who have a more experience with slot machine games. The RTP is also pretty good in this game, it has an RTP (return to player) of 96%. The maximum win you can get in the game is 91.406 coins. The game doesn't use any of the classis slot game symbols, here it's all about extraterrestrials in different colors. The aliens with two eyes are the symbols that pays most of the normal symbols, but the big jackpot is when the three eyed alien appears which I will get into more detail about further down.
The game is developed on a HTML5 platform, this means that it works on all devices, including mobile, as well as all the browsers available, even the old and discontinued internet explorer. The best part of an HTML5 platform is that there is no need to download any extra programs, such as Flash. This means that you can play this game without any fuss.
Special Features
Reactoonz doesn't offer free spins, but still continues to capture fans by offering somethings really special and unique. An example of this uniqueness is when you get a win the winning symbols disappear and new ones show up, meaning you get another chance to win. The wins also fill up a meter to the right, where once filled up, you receive some different features. For example, the green one is alteration, where one kind of the symbol's changes to another kind of symbol, giving you the possibility of more wins. The other colors are red, blue and orange which all do have different unique features.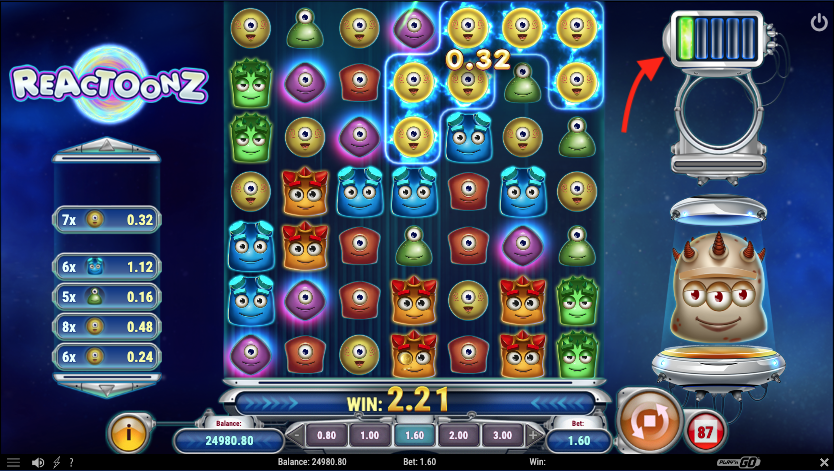 The game also have wilds which replaces any other symbols, they don't appear randomly but some of the smaller one eyed aliens have a glow behind them then if they get into a cluster of 5, then they will disappear and will be replaced by two wilds and some other symbols, another feature is instability, which places some wilds all around the grid.
But let us take a look at what the different colored bars do when they are activated.
Green Feature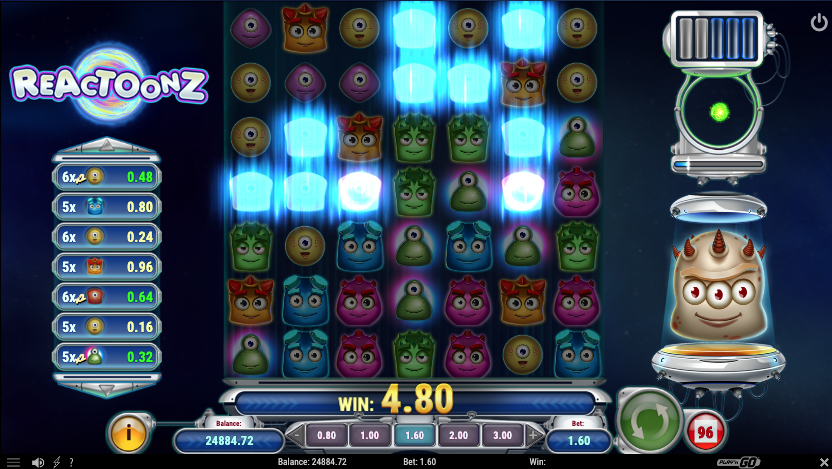 Here we see the green feature that I talked about earlier where they get replaced by another symbol. It's totally random which symbols this feature changes, so you can get unlucky and maybe only one symbol change if it is the only one on the grid.
Red Feature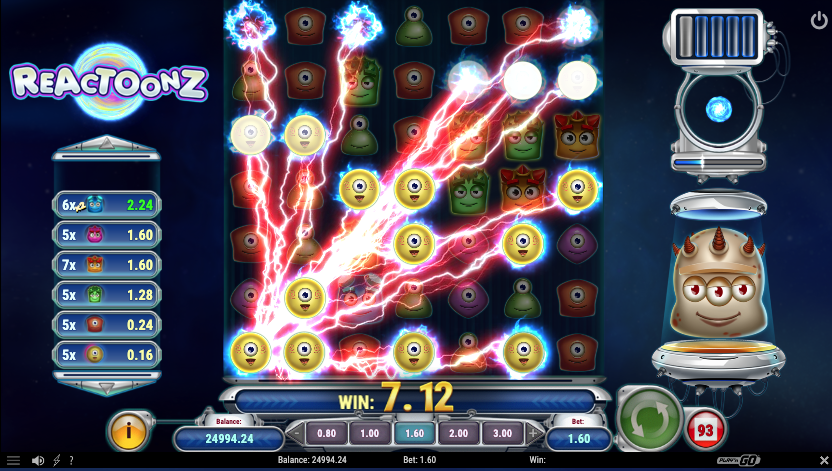 This is the red colored feature where it "demolishes" the one-eyed aliens and only the two eyed aliens are left. This can pay out big wins if it comes right before the Purple bar, which we will have a focus on later in this article.
Orange Feature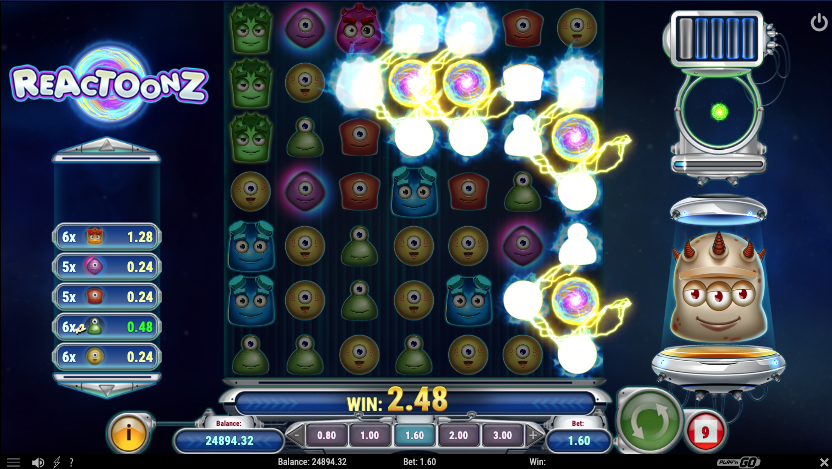 Here we can see the orange feature, which is kind of similar to instability, where wilds are placed on the grid, but they also remove some of the symbols around them. This is a great feature to get when you just need that little extra to get another feature, since it most of times gives some kind of win big or small.
Blue Feature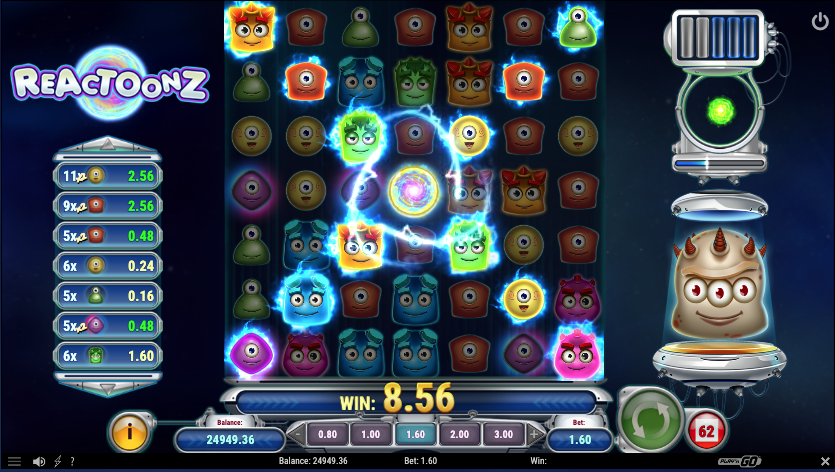 And the last one the blue feature, which might be one of the best features, this feature is kind of a hit or miss. Because the symbols in the X can change into wilds, which will give you big wins, and will most likely ensure that you get another two bars, but sometimes when it just changes into a low value symbol, then this feature isn't that good.
"Gaganation"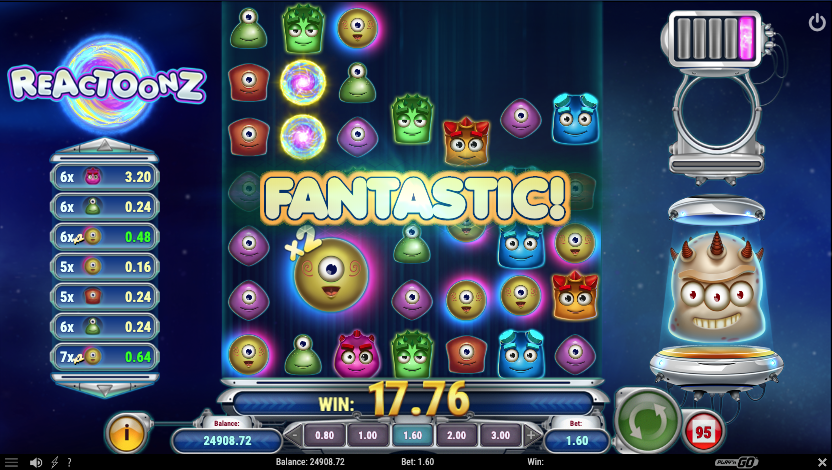 But the best of them all is the purple feature, which activates the three-eyed aliens, also known as "Gaga".
This gives you the biggest wins in the game, especially if they are next to the purple two-eyed alien. After the big "Gaga" has come out it splits up into smaller parts which are also placed on the maps, it splits up a total of 2 times.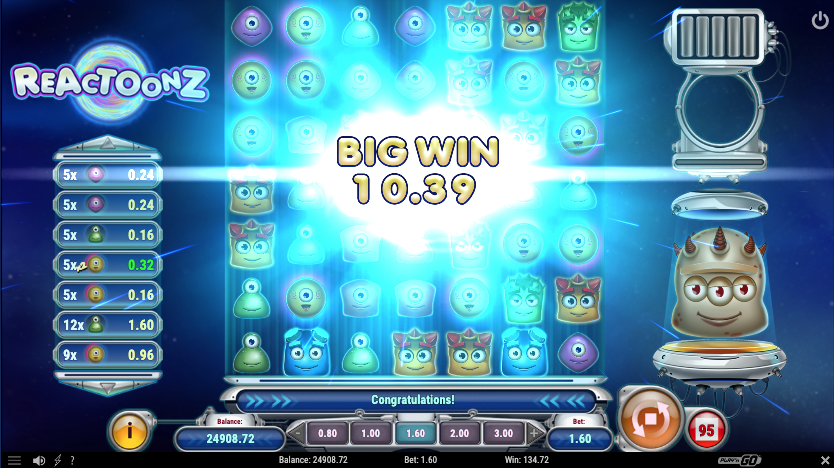 And this always leads to big wins, which is also shown graphically here.
Conclusion
This is quite an unusual game and there is nothing on the market like it, except Energoonz. We at FindFairCasinos like this game a lot and would recommend it to anyone who is getting a bit tired of all the "copy paste" slots where we have the usual card playing symbols, on a 5 reels 3 rows grid. The game can be slow at times due to its high volatility, but once it gets going, there is always stuff happening. Also, with the many features it has, it ensures plenty of excitement and thrill, I for sure haven't gotten bored with this game yet.