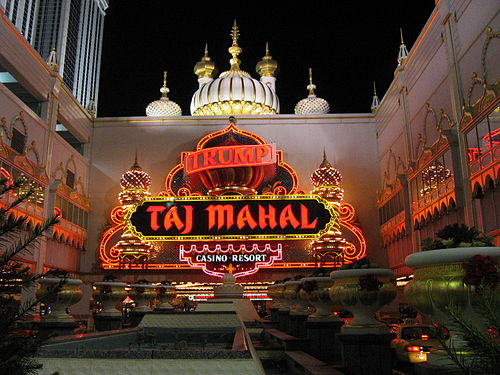 $1 Million in settlements for former Trump Taj Mahal Casino workers

Mathias Jensen

Published 14/07-2018
After more than three months of picketing in 2016, former employees of the now-closed Trump Taj Mahal casino resort have recently received settlements. These settlements mark the end of a long labor dispute between the casino workers and the previous owner of the now Hard Rock Hotel & Casino Atlantic City.
According to The Press of Atlantic City, 944 Trump Taj Mahal workers collected a total of $1 million on Thursday and Friday. Thursday also marked the new launch of the property under the Hard Rock brand. This settlement concluded the ongoing dispute between Trump Entertainment, the property's former owners, and the UNITE HERE Local 54 labor union.
In 2016, unionized workers left their jobs in protest against their contract terms and seeking reinstatement of their former health insurance and pension plans. Some of the workers had agreed to new terms in 2011, as the property narrowly avoided bankruptcy.
The 2016 strike continued for over three months and culminated in the property closing its doors in the October. The property's former owner, New York businessman Carl Icahn, blamed the long strikes for the closure, saying that they had damaged the Trump Taj Mahal beyond repair.
Victory for the Union
According to statements by former Trump Taj Mahal workers this week, the payments were not as important to them as the fact that they had defeated Mr. Icahn, owing to his inaction when they were striking in 2016. Some claimed that the win may have represented the businessman's first loss in the face of union action.
After closing in October 2016, the firm filed a motion to reject the terms of its employee contracts. This motion was upheld in court. As a result of this, unionized workers, along with two others, filed against the casino on grounds of unfair labor practice lawsuits. These charges were upheld.
With the matter due to go to trial in 2017, the casino and union instead reached an agreement that would compensate former workers.
According to Bob McDevitt, Local 54 Union President, it was pleasing for the workers to collect their pay-outs on the same day that the premises re-opened under Hard Rock. Before its launch, the Atlantic City's parent company Hard Rock International inked a labor agreement with Local 54.
Up to 800 former Trump Taj Mahal employees now work for Hard Rock, with 385 of these being Local 54 members.
The Trump Taj Mahal has been renovated and, last Thursday, opened its doors as the new Hard Rock Hotel & Casino Atlantic City. The property's re-birth cost Hard Rock $500 million, leaving its Asian theme behind and unveiling a new rock 'n' roll vibe, in line with the Hard Rock brand.