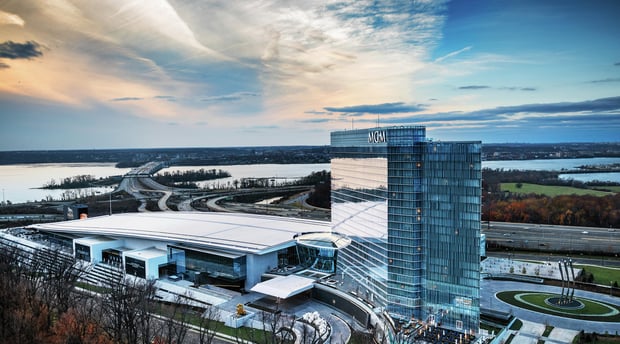 $48-Million Expansion for MGM National Harbor

Mathias Jensen

Published 21/07-2018
On Sunday, MGM's Maryland Casino resort launched its newly expanded gaming floor, which has cost the firm almost $50-million. This expansion came in response to an increased demand for gambling services. After first opening its doors a year and a half ago, the casino has once again unveiled a fresh new look.
The casino has revealed a much larger poker room, a new off-track horse betting facility and 285 slot machines. MGM National Harbor has teamed up with the state Jockey Club for the provision of its off-track horse betting. Further, the expansion sees a new food and drink offering, a smoking area and a large new terrace overlooking the Potomac River.
The Casino President and COO, Melonie Johnson, spoke to the Baltimore Sun about the $48-million project, explaining that MGM wanted to optimize the resort's floorspace, after ongoing casino success. She went on to say that they had been much busier than anticipated, and that a bigger gaming area, alongside a relocated poker area, is a valid response increased gaming demands.
Since its 2016 launch, MGM National Harbor has been attracting top-end gamblers from the local area and from neighboring Washington and Virginia. According to its President, the resort's convention facility and 3,000-foot theater are major attractions, bringing customers to the resort from all corners of the country. The theater has already played host to Britney Spears, Jill Scott, Bruno Mars, and a range of other top entertainers.
June Revenue
Maryland is home to 6 casinos, including MGM National Harbor. Between these properties, June saw a year-on-year revenue hike of 14.1%, with this revenue increasing to more than $148.9 million per month. With MGM National Harbor generating $59.3 million last month, their monthly takings marked an 18.3% increase on June 2017. The site houses 2,961 slots and 180 table games.
MGM National Harbor has quickly become the state's highest-earning casino, despite strong competition from Live! Casino & Hotel, which operates 3,997 slots and 198 table games. Live! reported a lower gaming revenue than MGM in June, with its $48.1 million revenue marking a 15.1% year-on-year increase.
Live! launched six years ago in Anne Arundel County, and is in the middle of its own multi-million-dollar expansion. It has recently unveiled a 310-room hotel within its complex. The Live! expansion will see the introduction of an event area and restaurant on the gambling floor. Live! is seeking to bring in more visitors and, in particular, to attract more high-rollers. By doing so, the casino seeks to combat the dent left in its business by the launch of MGM National Harbor in 2016.