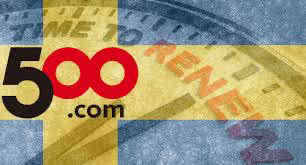 500.com has Swedish licence suspended

Jonas Riis Vestergaard

Published 18/01-2020
500.com have not had a good start to 2020. With rumours and accusations flying that they were involved in a bribery scandal with the Japanese regulators, the company has now heard that their Swedish gaming license is being suspended.
The reasoning behind this is different to the current Japanese problem, it's said that 500.com made an admin error and failed to renew the license before the end of 2019. This has led to the company having to suspend all operations within Sweden.
Big costs for the mistake
This admin error could mean that it leads to a big fall in revenue for 500.com with the revenue from Sweden accounting for almost 60% of the revenue it brought in during the third quarter of 2019.
Short term issue
500.com has announced that they expect the problem to be a short term one. In a press release, it was said to be currently talking over any issues with the Swedish regulatory body and that the problems should be ironed out by the end of February at the latest.
Issues in the Far East
This latest issue is the last thing that 500.com need after there were accusations that it had spent almost $80,000 on trying to bribe members of the Japanese government. This was in order to smooth over the chances of a brick and mortar casino being built in one of the surrounding Japanese islands.