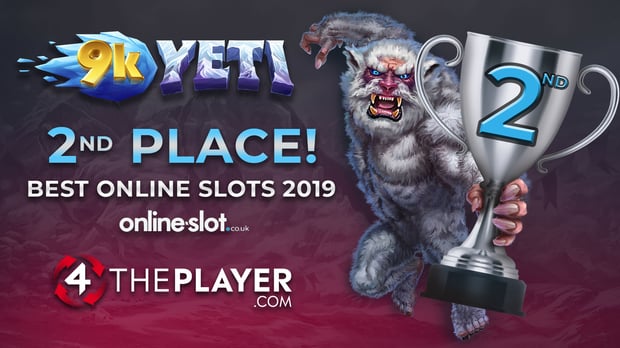 9k Yeti grabs a silver medal

Jonas Riis Vestergaard

Published 10/01-2020
4ThePlayer released their very first video slot last year. 9k Yeti was so popular with players that it was nominated for a string of awards. It even managed to take second place in the annual best online slot awards. This is an incredible achievement for the very first slot release from a company.
Details surrounding the title
The title was released at the tail end of last year through Yggdrasil. With almost 300 casinos offering the title to players and a big following on YouTube it has become a massively popular hit.
The game gives players plenty of ways to win, with over 4,000 paylines on offer. It also has a very large win available with more than 9,000 times your stake available. What is really special is that it can be played in both portrait and landscape mode through the innovative screen feature that 4ThePlayer have created. It means the vast majority of the screen is in use when playing.
The CEO for 4ThePlayer commented that he was very pleased with their first release. While they knew they had created an interesting title, they didn't know it would be so successful, especially with the large volume of video slots that are released each year. They hope that this will be a good starting point for them and will give them the impetus to go on and release more high quality slots that can grab the imagination of players.
End of year fun
If you still haven't discovered the joy that 9k Yeti can bring then it's still out there to try out. They even added a little holiday twist by putting a santa hat onto the Yeti during gameplay. It helped to give players a little smile on top of the high quality gameplay that was on offer. It's this attention to detail that means 4ThePlayer have a bright future in the industry.