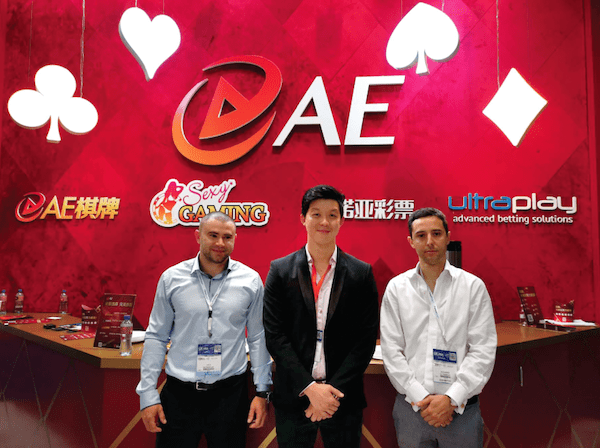 AE Group and UltraPlay Join Forces

Mathias Jensen

Published 22/06-2019
UltraPlay has just extended its reach in Asia by joining forces with a leading entertainment provider, AE Group. The deal will see the Malta-based AE Group serve as the exclusive home of UltraPlay's eSports betting on the continent.
The deal was announced at G2E Asia, which was held in Macau at The Venetian on May 21st to 23rd. It was presented at a booth run by AE Group and attracted a wealth of interest from attendees, providing a great start for this partnership.
Innovation
The Sofia-based UltraPlay announced that their "passion for innovation and first-rate services" was shared by their new partners. They also said that their "winning eSports product suite" should help them to expand further in Asia and to continue their already impressive growth in the region.
Although vast, Asia doesn't have that many regulated gaming markets, but there are a few key markets that are regulated and it's these that UltraPlay and AE Group will no doubt be hoping to target. The markets are some of the biggest in the world where eSports are concerned, as this industry was borne out of countries like South Korea and Japan.
A representative for AE Group also commented on the partnership, saying that UltraPlay "has a deep understanding and many years of experience" in the eSports sector. This, they believe, perfectly suits their own ambitions and vision and also helps them on their mission to offer the very best products and services on the market.
"We believe in our…partnership", they added, noting that it would provide them with a "gateway for the next level of betting entertainment" on the Asian continent.
The Software
UltraPlay has recently updated its betting suites, improving their product and tightening their grip on the growing eSports market. "Punters have it all," they said, when commenting on these new changes, noting how the changes would allow punters to place more in-play bets and to do so during more points in the match.
Their betting suite is one of the most advanced in the eSports sector, and they claim that this suite will allow AE to offer an "unprecedented" product for the eSports betting markets. The package will include a host of eSports titles, including the hugely popular Starcraft 2, which many consider to be one of the first truly professional eSports; League of Legends, which is a battle arena game that dominates many eSports events; and Counter-Strike GO, which is the biggest first-person shooter in professional gaming.
There are over 200 live markets offered on Counter-Strike Go alone, which is above and beyond anything that other product suites have been able to offer thus far. There are also many other in-play betting markets for all of the sports biggest games, and more than 2,500 in-play events every single month.
Needless to say, it's a monster of an eSports suite that will no doubt have a marked effect on the future of this industry.
Recognition
UltraPlay have been recognised for their excellence a number of times thus far, including one major accolade in 2019. They were awarded as the Best eSports Service Provider in the Baltics for 2019, and they have won similar accolades in the past, with 5 Star iGaming Awards and several other big awards to their name.