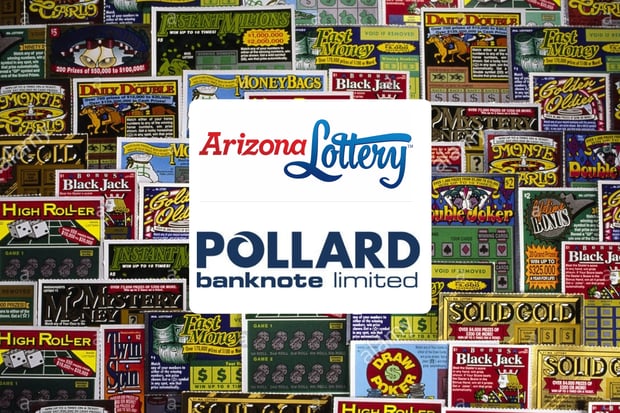 Arizona Lottery Deal for Pollard Banknote

Mathias Jensen

Published 30/05-2019
Pollard Banknote Limited, who are based in Winnipeg, have just been awarded a huge 6-year contract with Arizona Lottery, one that will see them provide warehousing and distributing services for the leading state lottery provider. This deal began in earnest in February of this year and it will run until 2026.
Long-Running Company
The Canadian Pollard Banknote have been working within the lottery sector for more than 20 years and first signed a distribution deal with Arizona Lottery in 2010. As per the terms of this deal, Pollard Banknote will run a distribution center and provide instant ticket services, while also providing telemarketing services, dealing with inventory and marketing, and providing a link between the state lottery provider and a host of retailers.
They will effectively provide Arizona Lottery with a huge array of services and they will use their high-tech SureTrack™Lottery Management System to help with this. SureTrack™ offers a wealth of features to make the process of management and distribution easier, including ordering, validation, inventory control, inventory management, forecasting, and much more.
SureTrack™ has been in operation for most of Pollard Banknote's history and has been used in many lotteries throughout that time.
Thrilled
The Vice President of Pollard Banknote commented on this recent deal to say that the company were "thrilled" to be given an opportunity to work with Arizona Lottery. He went on to say that Pollard Banknote have "worked diligently" to create a state-of-the-art lottery management solution, before adding that they are confident it will play an important role in helping Arizona Lottery to expand and to improve their bottom line.
The Executive Directory for Arizona Lottery responded to these comments, noting that their mission was to "maximize net revenue" so that they could provide more help and support to communities across the state of Arizona. They added that Pollard Banknote have "demonstrated a keen ability to provide quality products" during their 20+ years in operation and that they are confident they can do what is required of them.
Where Will the Money Go?
Lottery games are huge in the United States and have been for a number of years. This is the home of the Mega Millions and Powerball after all, and there are also a host of state lotteries that are just as widespread and well known. Despite the recent rise in legal sports betting and online gaming, lotteries remain one of the most popular and profitable gambling services in the state and Arizona Lottery are one of many organizations benefiting from this.
They recently launched a brand-new Bonus Ball ticket, which costs players $2 and gives them a chance to scoop a top prize of $10,000. There is a lot of money coming in through Arizona Lottery games like this and that money is used to benefit communities across the state.
In 2018 they handed out over $212 million to communities in need across Arizona, and it is believed these funds were used to bolster health, education, environment and business development sectors.