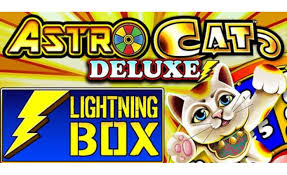 Astro Cat Deluxe Goes Live Thanks to New Partnership

Mathias Jensen

Published 17/07-2019
Lightning Box, a respected third-party online slot developer, has just utilized its partnership with Incredible Technologies, a manufacturer of entertainment product, to take the Astro Cat game online with a brand new look.
Astro Cat has already proved to be hugely popular in land-based casinos across the United States and now a revamped version of it, Astro Cat Deluxe, is set to go online. The original Astro Cat featured 5-reels, a huge 1,296 ways to win and a fun Asian aesthetic. The new Astro Cat Deluxe will include many of the same features in addition to something known as the Sky Wheel, which was incorporated by Incredible Technologies.
The Features
The Sky Wheel is a major part of the Astro Cat Deluxe slot. When 5 of these symbols land on the ReelFecta reel, the giant wheel begins to spin and can land players a host of prizes, including credits, a jackpot, or an entry into the Astro Cat Deluxe bonus round.
Players are also given a chance to spin a small wheel and win more prizes, including a multiplier of 5x and a re-spin.
Expansion
Both brands involved with this deal have commented on it, declaring their delight at the partnership and their confidence that it will help them both in the long run. A spokesperson for Lightning Box noted how Astro Cat has been popular since its USA release in 2017, and that they expected the online variant, Astro Cat Deluxe, to perform just as well.
Incredible Technologies echoed these thoughts, before noting that the "extremely popular Sky Wheel feature" helped to give the reimagined Astro Cat Deluxe an extra edge.
Already Live
Astro Cat Deluxe has already gone live, having rolled out on June 27. It can currently be found on several top online casinos, including Leo Vegas, Betsson, and Bet Victor.