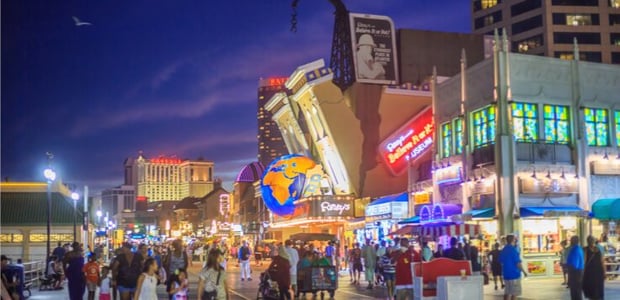 Atlantic City Have a Very Successful April

Mathias Jensen

Published 26/05-2019
Atlantic City hasn't had things easy in the last few years, with many believing that the city is passed its best after declining profits and closing casinos. However, they have something to celebrate this month as it has recently been announced that the nine casinos in New Jersey's gambling capital had a highly profitable April.
They noted a 23.8% rise in gross gaming revenues, with iGaming accounting for a huge proportion of this. In fact, the total revenue was $265.4 million, of which $36.6 million can be attributed to online gambling.
Gaming wins in this period increased by 8.4%, while sports betting take surpassed $21 million. Generally speaking, there was a lot for the seaside town to be happy with and it bodes well for their future as they continue to look towards improvements and expansions.
Success for Borgata
This is actually the 11th month of consecutive growth for Atlantic City, suggesting that AC's misfortunes may be turning around after all. It was even better news for Borgata Hotel Casino and Spa, which were the only casino to have recorded a year-on-year increase in their land-based wins, with everyone else relying on their iGaming take to swell their profits.
The Golden Nugget Atlantic City, for instance, saw a major drop in land-based wins. They lost 23.4%, but they saw iGaming profits rise by over 70%, ensuring that their overall profits increased by just under 4%.
If things continue in this way then iGaming could surpass land-based gaming in terms of revenue and wins. The casinos won't mind either way, providing they continue to increase their profits every year.
Good Times Online
One of the biggest online improvements was seen by Resorts Casino Hotel, as their online casino wins increased by 96.7% in April. They also took in an impressive $4.7 million from sports betting, which means their overall iGaming revenues increased by a staggering 229.5%.
As with 7 of the other casinos in Atlantic City, the Resorts Casino Hotel didn`t have things their way when it came to their land-based operations, as they experienced a drop of 25.7% for their land based wins.
It was a similar story with the Caesars Interactive casinos Caesars Atlantic City and Bally's Atlantic City. The former saw a more than 30% increase in online gaming wins, while noting a 24% drop in land-based takings; the latter saw an intake of more than $350,000 from sports betting, but their total gaming win dropped by 7%.
Here is a brief rundown of reports made by other casinos in the New Jersey city, all following the same trend and suggesting good times for online gaming and bad times for land-based gaming:
• Harrah's Resort Atlantic City: Another big name with surprising revenues, Harrah's Resort Atlantic City's casino win for the month of April was $27.1 million, which corresponded to a decrease of 6.3% overall, with their intake from sports betting amounting to just $73,542.
• Ocean Resort Casino: This recently established AC casino recorded a gaming win of more than $15 million for the month, with a take of over $300,000 from online gaming and over $830,000 from sports betting.
• Hard Rock Hotel and Casino AC: Another new casino resort, this one performed even better than the Ocean Resort Casino, with gaming wins of $23.3 million, $1.5m of which came from iGaming with a further $130,750 from sports betting.
Sports Betting Flourishes
Sports betting is a new and profitable enterprise in the state of New Jersey and the casinos in Atlantic City are profiting from it, but they are not the only ones. There are two non-AC based sports books in the state: Meadowlands Racetrack and Monmouth Park Racetrack. The former of these posted revenues of $12.1 million, the highest in the state, while the latter received around 1/5th less at $2.5 million.
This suggests that the future of Atlantic City betting could lie within iGaming and sports betting. Whether the city's biggest casinos will accommodate for this, and how, remains to be seen, but it could help to revive what many had considered to be a struggling industry.
And this is not just good news for the casino industry. Since the start of the year the state of New Jersey has generated over $1 billion in gaming revenues, which represents a year-on-year increase of more than 27%. In total, the state was able to generate over $23 million in tax, money that keeps on rising as the year progresses and these industries continue to grow.