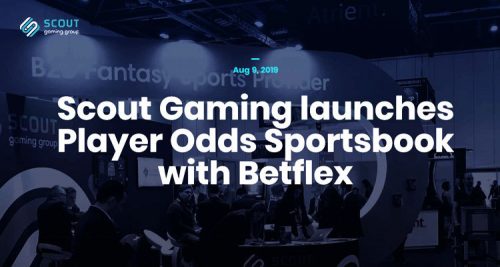 Betflex and Scout Gaming come together for a new sportsbook

Mathias Jensen

Published 30/08-2019
Scout Gaming has released their new player odds sportsbook, in conjunction with Betflex. This will be available at FanTeam.com, which is partnered up with Scout Gaming.
The sportsbook will offer players a mashup of traditional sports betting options and fantasy sports options. Scout Gaming is hoping that it will create a new niche within the market.
Innovation within sports betting
The new and innovative method is aimed at creating a new approach to sports betting. By giving customers the ability to place wagers on how well sports players and teams do in their fantasy sports metrics, it opens up a range of new markets for customers. Betflex also helps to offer more options to customers by cross-referencing a number of different metrics related to the casino games that are being played.
Scout Gaming has released a statement that shows how proud they are of their latest innovation. Because they are offering players the ability to wager on fantasy points and other related aspects, it means that customers have much bigger markets available to them. It also means that each individual sports player can be wagered on within these markets, which opens up the choices that customers have.
Because they use a range of stats related metrics, it is expected to be highly accurate as well as fun for customers. The use of Betflex opens up a number of opportunities to cross-sell in a range of different ways.
Scout expansion
Scout Gaming has offered customers a massive €250,000 pool over the season for the Premier League. This will give customers the ability to win additional prizes on top of their wagers if they manage to perform well in the fantasy league.
Large prizes
Part of the reason behind the large prize pool on offer to customers is for Scout to continue their good work within fantasy leagues. They have performed so well that they won an award for their fantasy sports offerings.
Licenced in new countries
This new advancement comes after Scout Gaming was given a licence by the Malta Gaming Authority. It means that any operators who are regulated by the MGA will be able to make use of Scout Gaming products. As such it means that they will be developing a range of different products that are aimed at this market.
They offer a range of different fantasy sports betting and pool betting options. Their network allows for the use of a top of the range statistics facility as well as the ability to lock into a range of different sports leagues around the world.