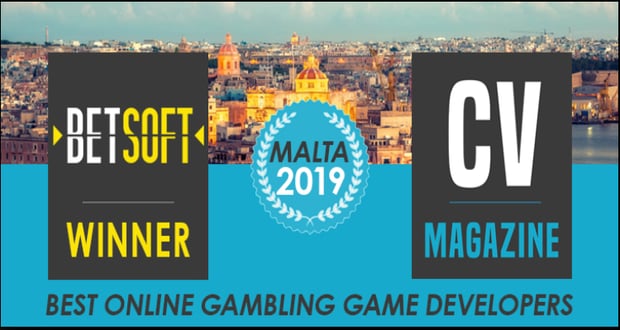 Betsoft Given Major Game Developer Award by CV Magazine

Mathias Jensen

Published 09/07-2019
Betsoft Gaming has just added yet another string to its bow after Corporate Vision Magazine recognized it as the Best Online Gambling Game Developer during their recent Media Innovator Awards. It's a big win for a growing company and one that further cements their status as one of the best and most innovative developers in the business.
This news follows Betsoft's success at the G2E Asia Awards, where they scooped a prize for the Best B2B Digital Product Solution. This award focuses on the virtual platform that Betsoft have created and supplied to the iGaming sector, with the organizers pointing to the company's continued efforts in the field of product development, as well as their growing list of games and their top-of-the-line client support.
The Corporate Vision Magazine awards, on the other hand, focused on singling out innovative and dynamic companies in the gaming sector. They highlighted Betsoft's efforts in creating high-quality 3D titles and providing the industry with "next-level content" over the last year.
Great Praise
Betsoft's extensive history was praised heavily by the Corporate Vision Magazine award judges. They said that Betsoft have repeatedly proven "they are one of the leaders" in the creation of top-of-the-range and highly cinematic casino slots.
They added that the Betsoft team of developers have been responsible for "some of the best 3D" casino games in recent memory, and when you look back over the Betsoft Gaming catalog and at titles like Night at the Museum and The Slotfather, it's hard to disagree with them. Corporate Vision Magazine finished by calling Betsoft "worthy winners" of their 2019 award.
Recent Innovations
Betsoft have been busy in the last year or so and that productivity is no doubt one of the reasons behind their recent awards, including the aforementioned honor bestowed upon them by Corporate Vision Magazine.
One of Betsoft's recent creations was Max Quest: Wrath of Ra, which adds many new elements to the traditional slot setup and shows this iGaming giant at their very best and most creative. Max Quest: Wrath of Ra has been called a "shoot 'em up" adventure that focuses on action and does away with the traditional setup, symbols and reels.
Max Quest: Wrath of Ra puts players in the shoes of treasure hunters as they take aim at an onslaught of insects, monsters and mummies through a succession of missions. It brings elements of social gaming and mobile gaming into what is otherwise a real money slot machine, and it showcases Betsoft at their very best.
Max Quest: Wrath of Ra was included on the Spinnovator of the Year award shortlist, which was awarded at the end of April 2019. The Marketing Director for Betsoft commented on the year that they have had, saying that "products like" Max Quest: Wrath of Ra have changed the way "players interact with RNG games" and have added more depth to their vast portfolio, which includes "cinematic slots like Spinfinity Man".
They also expressed delight at winning the Best Online Gambling Game Developer award, saying that it vindicated the hard work their team has put in over the last few years.
The Betsoft Portfolio
Betsoft has always been a favorite with fans due to its focus on 3D graphics and unique slot features. Their many titles are a step above the rest in terms of visual appeal and they are also filled with a host of exciting and unique features. Many players seek out Betsoft titles on casinos and as a result casinos have started to sign deals with the company to include their games.
Betsoft has a portfolio that expands to more than 190 RNG titles, many of which are slot machines published under the SLOTS3 banner, which is where you'll find their best and most attractive games. Their games can be found on countless casinos in many regulated markets, including some big names like LeoVegas, ComeOn! and Mr. Green.
Betsoft operate in 15 regulated markets in total and in addition to Max Quest they have released several other top-drawer titles in 2019.