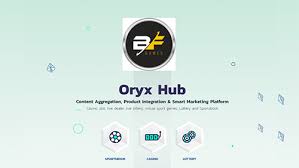 BF Games to Launch on ORYX Hub Platform

Mathias Jensen

Published 24/10-2019
The London-based Bee-Fee Games, more commonly known as BF Games, has just gone live on the ORYX Hub platform, delivering its many video slots and bingo games. This deal means that all partners of ORYX Hub will now have access to BF Games titles, including titles such as Bonnie & Clyde, which is based on the famous 1930s bank robbers of the same name; Aztec Adventure, which is steeped in ancient American mythology and history; and Taste of China, which explores history on the other side of the world.
It will also include all future games launched by BF Games, one of the most innovative and exciting developers in the iGaming industry right.
Rapid Growth
BF Games has rapidly expanded in recent years and a lot of this expansion has occurred in the last few months. Thanks to this deal with Oryx, it has just taken another leap forward.
BF Games will now be certified to operate in various regulated markets around the world, including the United Kingdom, one of the largest markets in the sector, and Sweden, which opened its doors to this industry at the start of 2019. Oryx is expanding into Latin American markets as well and also offers its services to players in Croatia, Czech Republic, Serbia, Malta, and more.
A spokesperson for BF Games commented on this deal, calling it a "strategic step" for both parties, noting that Oryx has a strong presence in central Europe, where BF Games titles have a history of performing really well. They also noted that the partnership will work wonders for BF Games' expansion goals, placing their content in front of more players than ever before and allowing the brand to grow significantly.
For its part, Oryx said that BF Games will prove a valuable addition to its network, offering its clients rapid and seamless access to all BF Games titles via the Oryx Hub. It added that the Oryx Hub gives operators access to large suite of games, all of which are certified and available in many major regions around the world.
The Hub also provides marketing tools that casino clients can use to boost the casino games and get them in front of more players, leading to more spins, more deals, more chances and, in the end, much more revenue.
Other Deals
Oryx Hub relies on new developers adding their titles to the mix and on casino clients using those titles. Recently, it signed a deal with Betclic that expanded this network further.
Betclic is part of the French Betclic Group and it will now have access to the many games in the Oryx network, which spans over 8,000 titles from brands such as Kalamba, Givme Games, and Golden Hero, as well as the newly acquired BF Games.
BF Games has also celebrated some big news recently. It launched its Fibonacci slot, which combines beautifully crisp gameplay with solid graphics and stacks of features—it's a simple but effective game that players are already enjoying in their thousands.