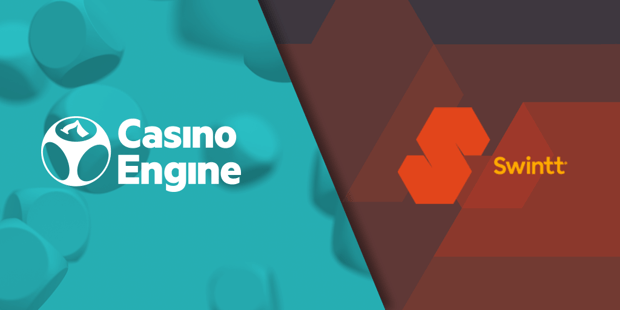 CasinoEngine and Swintt agree to a deal

Jonas Riis Vestergaard

Published 09/12-2019
EveryMatrix have signed a new partnership agreement with Swintt. This will see their aggregation platform be used to provide Swintt games to different operators. CasinoEngine is one of the biggest names on the market and is building up a big list of clients.
This is the latest deal that Swintt have signed, which is a big deal for a company that's less than a year old. They provide a range of different services to operators and this new deal is expected to see them continue their rapid growth.
Lots on show
The deal will see CasinoEngine be able to offer the entirety of the games roster that Swintt have available to their customers.
CasinoEngine is branded as the biggest integration platform within the iGaming industry. It currently has almost 150 software developers and over 8,000 titles included. The developers are also some of the biggest names in the industry, which gives it credibility. There are also plenty of tools included to make it extremely useful.
Swintt are the new boys with a lot of promise
Swintt are growing at a very fast rate. Even though they have not been around very long they have still built up a roster of games that is highly regarded. This new link up is expected to help them by offering added engagement tools which should help to keep players around for longer.
The CasinoEngine CEO said that they were very happy to have signed a new deal with Swintt. Because they are one of the fastest growing new companies on the market it made sense to make sure that they had an opportunity to be a part of the biggest aggregation platform in the industry. They hope that this will be a long term partnership that will see both sides get a lot of benefits.
The Swintt CEO also had similar things to say. He said that although they are a small company, the ability to sign a deal with such a big name was an important milestone for them. They hope that it will be a partnership that will grow over time and see both companies become bigger and better.
Lots of new deals
This isn't the only new deal that EveryMatrix have signed recently. They have also signed a new deal with Skywind Group. This goes with their other deal with Spinmatic. These two deals have seen CasinoEngine massively increase the number of high quality titles that it has available. They are all part of the plan to ensure that CasinoEngine doesn't get overtaken by other aggregation platforms.
EveryMatrix have also launched a new games studio. This is to give them the opportunity to add their own titles to the CasinoEngine platform and make sure that it never stands still. This should give them an advantage over other platforms as these games will only be available at CasinoEngine.