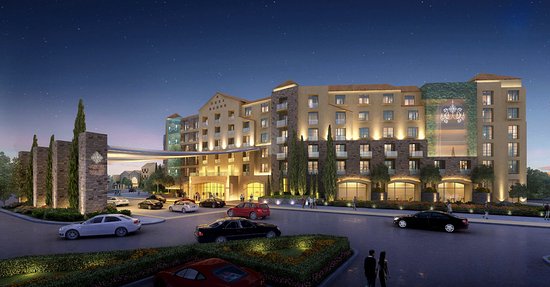 Del Lago Resort and Casino Looking to Downsize

Mathias Jensen

Published 08/05-2019
Sports betting is changing in the United States. It's becoming available on more sports and growing in popularity in the states where it already exists. Perhaps in anticipation of this, Del Lago Resort and Casino is seeking to reduce its slots and gaming tables in order to focus more on its upcoming sports betting operations.
The northern New York company has officially requested permission to decease its gaming inventory by 15% so that it can shift more funds and attention to sports betting, allowing it to capture more of this growing market.
Big Plans
The Del Lago Resort and Casino opened its doors in early 2017 as part of an operation to create four Las Vegas-style commercial casinos in the state of New York. It was hoped that these casinos would help to crease tax revenue and would also drive more tourists to the region, capturing some of the money that goes into the Las Vegas tourism sector every year, the same money that helped turn a patch of nothing in the middle of a desert into one of the richest cities in the world.
However, these casinos didn't quite meet expectations and continue to perform below the standards expected of them. This was evident very early on, when Del Lago Resort and Casino posted revenues that were nearly 44% down on what had been predicted. The casino also failed to get the government to agree to a better tax deal and everything seems to be going downhill for them.
However, they then agreed to a deal that will see them open a physical sportsbook in the state. This sportsbook will be opened in collaboration with the fantasy sports giant DraftKings, and could help to give Del Lago Resort and Casino the lift that it has so desperately been looking for.
The Request
According to The Democrat and Chronicle newspaper, which was the first to report on this story, Del Lago Resort and Casino is required to operate a minimum of 1,950 slots and 94 gaming tables, which is why they made the request as opposed to simply going ahead and shifting the focus of their own accord.
There is precedent for such a request being granted, as the New York State Gaming Commission gave other local casinos permission to reduce operations by 9% and 26% respectively, suggesting that the 205-room Del Lago Resort and Casino shouldn't have an issue going the same way.
A spokesperson for the casino was quoted as saying that the New York State Commission would likely deal with the request very soon, as they are in the process of finalizing regulations on the states sports betting industry. He went on to note how excited he and his company were to be working with DraftKings, before adding that the casino and resort would still offer a total of 1.650 slots and 66 table games after the reduction.