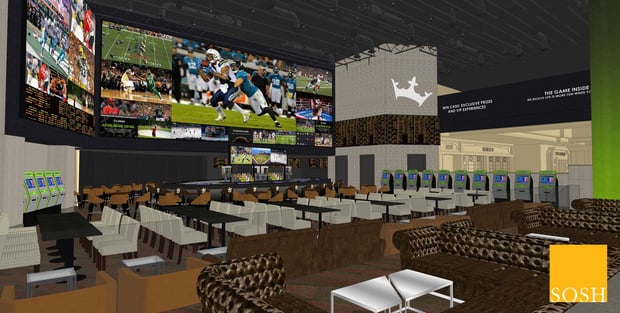 Del Lago Resort and Casino open a Draftkings run sportsbook

Mathias Jensen

Published 04/09-2019
DraftKings have made it known that they will be opening a sportsbook at del Lago Resort and Casino. This New York based sportsbook will be the third to open within the state and the first in the state to make use of everything that DraftKings have to offer.
Opening ceremony
The grand opening of the sportsbook will include officials from both DraftKings and from del Lago. This will include a ribbon cutting ceremony followed by the sportsbook taking its first bets. The first bets will be made by the officials from each company.
With more than 5,750 square feet on offer it will be opened just over a quarter of a year after del Lago had their plans for a sportsbook confirmed. It means that they will be reducing the number of slot machines and table games that they offer; this is to make the space for the sportsbook rather than extending their current premises.
However, del Lago did make it clear that once the sportsbook was fully up and running that they intended to find a way to bring the games they removed back into the building. Whether they would be taking on more employees once they added the games back is not something that they addressed.
VIP guests
There was also a VIP guest invited to the grand opening of the sportsbook. Donovan McNabb will be the guest of honour; the NFL superstar will be along to enjoy the various events taking place and place one of the first wagers.
Donovan McNabb isn't just a former NFL player, but he's also got links to New York. He attended a university within the state, where he was a double sports star. Because there can be no wagers placed on college teams within the state, it does mean that he can't place a wager on his former college.