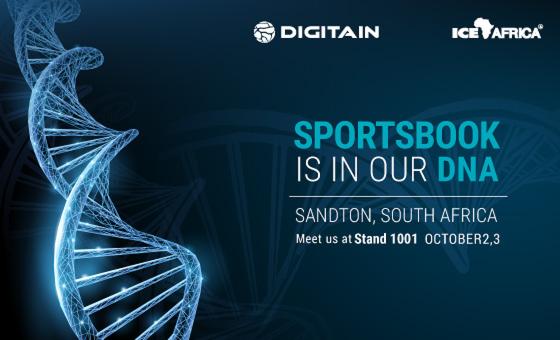 Digitain's Bespoke Solutions Announced at ICE Africa

Mathias Jensen

Published 22/10-2019
ICE Africa is one of the biggest events of the final quarter of 2019 and one that Digitain, a leading sportsbook and casino provider, was keen to take advantage of. Prior to this event taking place on the 2nd and 3rd of October, it announced its intention to join in, declaring that its goal was to showcase some brand-new, bespoke solutions.
Taking place at the Sandton Convention Centre in the city of Johannesburg, South Africa, this two-day event served as a showcase for the biggest developers in the world. It was a great platform for Africa's established and growing brands to show what they were made of, but it's also one that European brands used to gain some insight into the African gaming market.
The Big Event
Digitain could be found at Stand 1001 and its participation came just a short time after it was declared the Best Sports Betting Innovation at the CEEGC Awards, which took place in the final week of September in the grand city of Budapest, Hungary. The award marked what has been a very productive year for the brand, one that has seen some huge contracts and releases and one that has also greatly increased its stock in the global iGaming sector.
Digitain has grown its presence considerably throughout Europe and Asia and has also had its sights set firmly on the African market. It clearly saw ICE Africa as a way to expand its presence on the continent. According to a press release anounced before the event, it had intended to announce its newest and best services, products and solutions, giving the African market a taste of what's to come.
Huge Growth
The rapid African growth experienced by Digitain has been led by their Regional Director for Africa, who has worked extremely hard in the past few months to give the brand more of a foothold in this burgeoning market.
It has signed multiple deals with some of the biggest names on the continent, including WesternBet, which is based in the west-African country of Nigeria. Digitain declared that its "modular platform" and flexible approach allows it to meet the many unique challenges that this market sends its way. It also discussed its extensive range of "home-grown games" and noted that these are quickly being made available to players across Africa.
A Lot to Offer
The Digitain sportsbetting solution is one of its standout offerings and one that has helped it to become the force that it is. Africa has a huge sports following and many of those sports fans are keen to bet, especially on soccer, which is popular across the continent, and rugby, which has a large following in South Africa, Zimbabwe, Namibia, and a handful of other countries.
The Digitain platform gives players the chance to bet on 65 different sports, including the aforementioned soccer and rugby. These sports encompass 7,500 leagues and over 3,000 betting markets. Punters in Africa can bet on the number of goals scored in a single English Premier League match, or number of tries scored in a Super Rugby game.
The platform also spans over 35,000 live events, while the casino arm of the Digitain gaming solution spans over 3,000 games from the biggest names in iGaming, including Novomatic, Microgaming, NetEnt, and Playson.
It's an all-encompassing platform that gives African players the best of the iGaming industry. According to a spokesperson for the brand, Africa is a "key part of [its] strategy". They went on to say that ICE Africa was a great way for them to showcase what they have to offer, and the fact that it occurred after a landmark year was simply the cherry on top of the icing on top of the cake!
They called themselves the "ideal partner" for iGaming brands in Africa and we're sure this sentiment was echoed by the many operators who saw Digitain's products and services in action at ICE Africa.
More Accolades
In addition to the big win at the CEEGC awards, Digitain also won big during Russian Gaming Week, which was in the glorious city of Moscow in June. In April, just a few months earlier, it was credited as the "Strongest Competitor" at the Big Africa Supershow and Awards, which was also held in the South African city of Johannesburg.