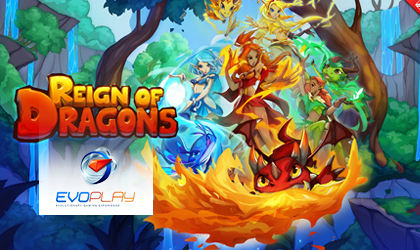 Evoplay Entertainment release new Reign of Dragons video slot

Mathias Jensen

Published 04/10-2019
Evoplay have pushed their name to the front of the queue with their latest video slot release, Reign of Dragons. This will take players on a wild ride into a fantasy world filled with dragons and their masters. It offers both mobile and desktop gaming and has incredible visuals to go with it. The four elements feature prominently in the game to give players a sense of nature to go with the high fantasy.
Bonus rounds on offer
There are a range of different features on offer in Reign of Dragons. The free spins round can be activated using one of the four different scatter symbols that are on offer. The different scatters all offer different free spins modes.
The red girl represents the element of fire, she helps dragons to hatch from their eggs. When she appears on the first reel in the game she makes sure that all dragon symbols that appear are wild. The blue girl represents water, and she appears on the final reel and makes the three reels before her appear exactly the same as the reel she is on.
The green girl represents earth and she changes all of the low paying symbols in the game. She turns them into sticky wild symbols whenever she lands on the final reel. This means that any low paying symbols that land on the reel will become sticky wilds. The golden girl appears on the first reel and she makes two dragon symbols move into winning positions on the game board.
Evoplay are delighted with their new title. They said in a statement that they feel the game is one of the most fantastic titles on the market. It includes incredible visuals, an enjoyable soundtrack and takes players right into the story of the game. It will give players a great dragon experience without having to worry about being burned! There are also big wins on offer and some really enjoyable features.
More titles being released by Evoplay
Evoplay have also been working hard to innovate recently. Two months ago they released a video slot that contained RPG elements. The game is called Dungeon and it sees players battling their way through a dungeon to try and win big prizes. The hero of the game has to fight his way through hordes of monsters and he wins prizes for every monster that he defeats. It's a highly innovative title that really grabs the player attention.
Free spins is something everyone loves, if you want to find the best free spins bonuses at some of our favorite casinos, then you should give our Free spins page a visit here!