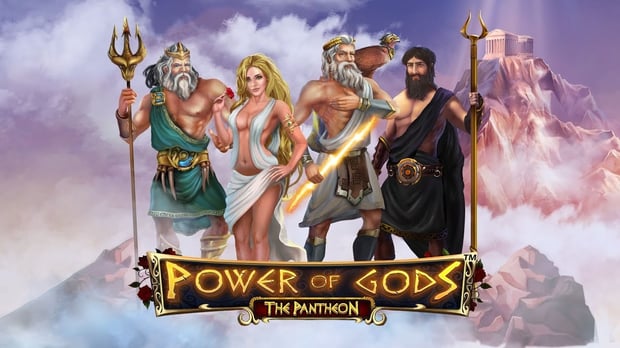 Feel the Power of the Gods with Wazdan at LeoVegas

Mathias Jensen

Published 26/10-2019
Take a journey to the magical world of Ancient Greece with the Power of Gods: The Pantheon video slot from Wazdan. Players can become friends with the Gods of ancient Greece, cosying up to Hades, the God of the Underworld; Poseidon, the God of the seas, and Zeus the God of Gods, as they seek big treasures and payouts.
Power of Gods: The Pantheon will initially be launched on LeoVegas, after which it could spread to other online casinos.
What to Expect
Power of Gods: The Pantheon features several major Gods of Olympus on the reels, including Zeus, the mightiest of them all. Each God is designed in their own unique way and has been given the characteristics typically associated with their mythos. Zeus, for instance, has lightning bolts that he can throw at the reels to unlock Extra Wilds; Aphrodite, one of the most beautiful Gods of all, uses her charm to add Cascading Reels. Hades, on the other hand, invites players to use a unique Gamble feature, where they can go double or nothing.
There are also monsters straight out of Greek myths and legends, including a Free Spins feature that pits Poseidon against a monstrous sea creature. Ancient Greece is where civilisation and modernity was born, but thanks to its diverse and imaginative creation myths, it's also where you'll find some of the best stories and the best characters. This is something that Power of Gods: The Pantheon explores in full.
The Head of Sales of Wazdan spoke about Power of Gods: The Pantheon during a recent press release, calling it a "fun slot" with a host of "fantastic graphics" and "first-class" features. They added that 2019 has been a very busy year for Wazdan and that it was a pleasure for them to work with new providers, to enter new markets, and to continue providing the highest quality slots.
CasinoBeats Summit 2019
Power of Gods: The Pantheon was showcased during CasinoBeats Summit 2019, where Wazdan representatives gave players a chance to try the game for themselves. This summit also served as a showcase for the brand-new Magic Stars 9 title, which expands on one of Wazdan's most popular series, as well as a slot titled Butterfly Lovers.
Free spins: Free spins is something everyone loves, if you want to find the best free spins bonuses at some of our favorite casinos, then you should give our Free spins page a visit here!