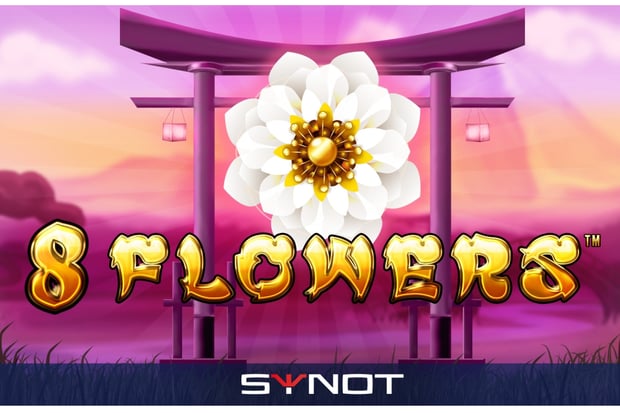 Fresh Bouquet for Synot with 8 Flowers

Mathias Jensen

Published 01/06-2019
Asian culture has been featured prominently in a host of recent video slots, with developers from Yggdrasil Gaming to Play'n GO adopting this theme in their unique creations. Another developer jumping on this bandwagon and exploring all the beauty and majesty of Asian culture is Synot Games Limited, who have just announced the launch of 8 Flowers, a casino game that is every bit as fresh and as beautiful as it sounds.
The Style
8 Flowers takes place in a serene zen garden—just what you need after a long and stressful day. There are cherry blossom trees, clear rivers, and everything else you would expect from such a tranquil location. The number 8 also features prominently throughout this video slot, both because it is in the name of the game and because it is linked to fortune and prosperity in Asian culture.
What to Expect
8 Flowers has a 3x3 setup and features 9 paylines. One of the game's biggest symbols is the wild, which can substitute for all other symbols in the game to create winning paylines. There is also something known as the Wild Flower Bonus, which is triggered completely at random and can occur during any spin, win or lose.
This feature adds up to 8 wild symbols to all but 1 of the reels, increasing the player's chance for a big win. Players should also be on the lookout for a unique re-spin feature which occurs when a wild symbol lands on the 9th payline. If this happens then a new set of reels will appear and the wild will be locked in place as everything else is spun again.
The CEO for Synot commented on the release of 8 Flowers to describe it as a game that stands-out amongst the other 3 reel and 5 reel slots on their list, as it's neither one nor the other and occupies a middle ground between the two. He added that 8 Flowers helped to add some diversity to their roster with its "fresh delicate theme" that could be enjoyed by all types of players.
Games and Deals
The launch of this Asian-themed slot comes just a few weeks after Synot Games Limited signed on the dotted light with Aspire Global, one of the biggest names in the online gambling sector. The deal will see Synot provide a number of titles to Aspire, who will then make them available through their platform.
This helps to ensure that games like 8 Flowers will be given a wide and varied audience. The deal also includes a selection of other HTML5 titles, including Hunter's Spirit, a 5-reel and 20-payline online slot that has become one of Synot's standout titles.