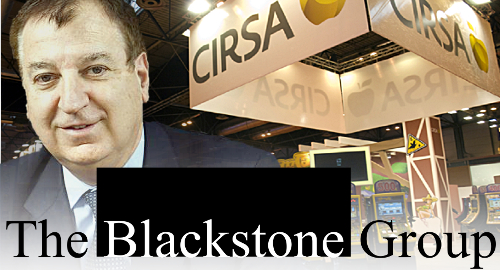 Gambling Colossus Cirsa Bought by Blackstone Group

Mathias Jensen

Published 02/05-2018
On Friday, local news media reported that the Spanish gambling giant Cirsa Gaming Corporation had been acquired in full by The Blackstone Group. While those close to the deal were willing to confirm that the American private equity enterprise had purchased the gambling operator, they were tight-lipped about other details including the amount the company was bought for, although it has previously achieved a valuation of 1.6 billion euros.
This is the latest take-over in a growing trend across the European and worldwide gambling industry that is seeing increasing consolidation of gambling operators. For instance, just days ago, The Stars Group, a Canadian organization, announced its intention to purchase the UK enterprise Sky Betting Gaming. This deal, worth 4.7 billion US dollars, will create the largest listed gambling firm in the world. Recently, Playtech, an online gambling operator, has also announced an important purchase. It has confirmed it will pay 846 million euros for just over 70% of Snaitech, an Italian gambling operator.
Purchasing Cirsa is a coup for Blackstone. Cirsa has been around for 40 years and was founded by one of Spain's wealthiest people, businessperson Manuel Lao Hernández. The company has since expanded across Spain and into Italy and several nations in Latin America. The Cirsa empire includes a total of 178 gaming halls, more than 75,0000 gaming machines located in various venues, 70 bingo halls, 3,000 lottery terminals, over 2,000 sports betting shops and 147 land-based casinos. Its varied operations earned Cirsa 1.716 billion euros in revenue last year.
Bidding Process
Bidding for Cirsa started back in February with Blackstone, Cerberus Capital Management and Apollo Global Management among the US companies interested in the purchase. The news media reported that a number of gambling operators were also keen to acquire Cirsa, and it was estimated that the gambling company would achieve approximately 2 billion euros for its operations.
Nonetheless, despite a decent level of initial interest, early last month, Reuters reported that only the private equity companies Apollo and Blackstone were still in the running to purchase Cirsa. Those close to the deal stated that Cirsa was disappointed that only two bidders were vying to purchase the Spanish company. In fact, Reuters reported that the low level of interest from investors was putting the entire deal in jeopardy. Cirsa, Apollo and Blackstone were invited to comment on this story but chose not to.
Indeed, last year, sources close to Cirsa revealed that the company had been exploring the potential of listing, and it is believed the operator had hired financial advisory firm Lazard to help it determine whether flotation, sale of a minority share or sale of the full business reflected the optimal opportunity for the gambling firm.
As for Cirsa's future now it is under new ownership, Blackstone are said to be pursuing the geographical expansion of the company through mergers with fellow gambling operators.