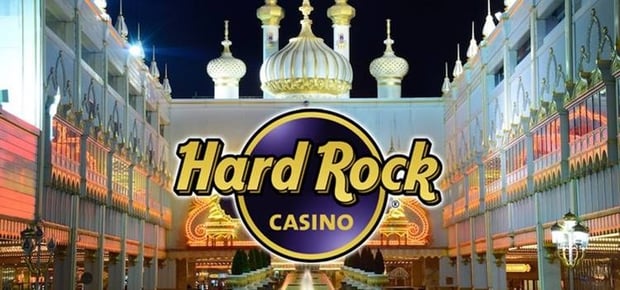 No sports betting at the opening of Atlantic City's Hard Rock

Mathias Jensen

Published 28/06-2018
As other Atlantic City casinos eagerly try to partner with sports betting enterprises, management at Hard Rock are in no rush to decide whether to include sports betting in their establishment.
Speaking to The Press of Atlantic City, Matt Harkness, Hard Rock President, explained, "We're not opening with sports betting, but it's something we're taking a very hard look at for the future."
Hard Rock Atlantic City, located in the northern half of the Boardwalk, will open at 11 am ET on the 28th of June, with Ocean Resort Casino opening at 1 pm the same day.
A destination for entertainment not just gaming.
With renovation costs coming in at over $500 million, the Hard Rock has changed completely from its previous incarnation as the India-themed Trump Taj Mahal. According to Hard Rock, the primary objective of the new casino is to become a leading entertainment destination. In April, Jim Allen, Hard Rock International CEO, stated, "When we announced that we were going to step in the Atlantic City gaming market, we had a different view point…It's not about gaming. It's about entertainment."
Hard Rock's ambitions are clearly in earnest, with the casino's 7,000-seat theatre scheduled to host 300 live concerts in Hard Rock's first year of operations.
During Ocean Resort Casino's property license application, the owner of the casino Bruce Deifik admitted that competing with the superior acts booked by Hard Rock was a challenge. Nonetheless, for a while at least, Ocean Resort Casino will have the only sportsbook on the Boardwalk's north end after securing a partnership last month with leading sportsbook operator William Hill. Ocean Resort Casino will offer sports betting from its opening on Thursday.
So far, the third casino on the northern end of the Boardwalk, Resorts Casino Hotel, still hasn't revealed whether it will introduce sports betting. As a result, Ocean Resort Casino will be the only property, out of Hard Rock, Resorts Casino Hotel and the non-casino enterprise Showboat, to offer a sportsbook in the close vicinity. In the Marina District, Borgata, by MGM, operates a sportsbook.
It is possible for regulators in New Jersey to give permission for remote sports betting in the state but at present, gamblers need to make their wagers face-to-face.
Hard Rock vs Ocean Resort Casino
The two new casinos have different things to offer. Firstly, Hard Rock is the larger establishment, covering 167,000 square feet compared with Ocean Resort Casino's 131,000 square feet. Also, Hard Rock will feature 120 tables and 2,100 slots, while Ocean Resort Casino will provide 100 tables and 2,000 slots.
In terms of restaurants and bars, again Hard Rock has the edge in numbers, offering 20 such facilities and Ocean Resort Casino offering 13.
Moreover, Ocean Resort Casino is committed to welcoming all gamers, while Hard Rock is focusing on visitors to Atlantic City.
Speaking to New Jersey's gaming regulators, Frank Leone, CEO of Ocean Resort Casino, affirmed, "We are going to ensure that customers who don't get personal attention at other properties get personal attention here." This signifies a distinct break from Ocean Resort Casino's previous incarnation as the $2.4 billion Revel, which faced a barrage of criticism for focusing only on high-rollers.