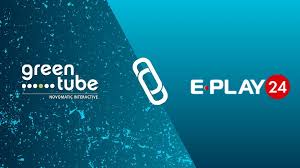 Greentube and E-Play24 agree to work together

Mathias Jensen

Published 27/09-2019
Greentube has signed a deal with E-Play24 which will see Greentube titles make their way to platforms that are run by E-Play24. This will allow Greentube to increase their foothold on the Italian market which is an important regulated market for them.
It will see the entire portfolio of titles that Greentube offer be available to players at E-Play24 casinos.
Greentube has released a statement that says they are dedicated to working together with the biggest names in the iGaming industry. This means their new partnership with E-Play24 is an important one and will allow them to keep moving on an upward trajectory. It will allow E-Play24 to offer some of their most popular casino titles to their customers which is aimed at increasing the popularity and name value of both brands.
Important regulated market
Greentube also said that because the deal would benefit both companies, it's seen as a vital partnership. It will also allow Greentube to make their position in the Italian geography stronger than it already is. Because over the last year, it has become an even more important market for them, they feel that strengthening their position is vitally important to ensure they don't lose out on it.
Focusing on high quality and long term growth
E-Play24 were also of a similar opinion. They felt that signing a deal with Greentube would allow them to offer even more quality titles to players. While they were not focused on quantity, the ability to offer more titles to players is always appealing, especially when they are of the standard that Greentube create.
Stepping stones forward
E-Play24 also said that because Book of Ra is the current most popular slot in the world, the deal was vitally important to them. They feel that offering this title, along with the other top casino games that Greentube have on offer, will allow E-Play24 to continue their current rapid rate of growth. They intend to continue expanding and the deal with Greentube means that they are currently set up well to do so.
Greentube has continued to develop their business partnerships recently as this new deal with E-Play24 follows on from a deal they signed with BetPlay. It also comes after a brand new video slot was added to their roster, including a number of new features. Heart of Egypt includes ALLPAY and should be popular with players with large bankrolls.