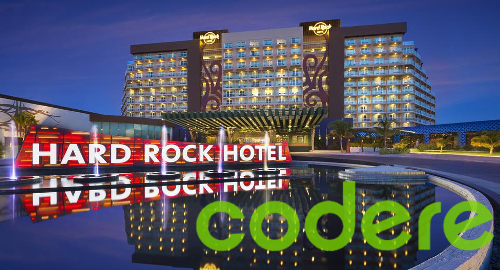 Hard Rock get land to build a new complex

Mathias Jensen

Published 11/09-2019
Hard Rock and Codere have signed a deal that will lead to a new tourist resort to be built in Mexico. The land and building will cost more than $900 million and will be split almost down the middle between the two parties, with Hard Rock having a slightly larger stake due to their involvement in funding.
Hard Rock maintain the music theme
There are a number of rumours currently circulating about the new resort, with most based around the possibility that Hard Rock could use this land to build their hotel in the shape of a guitar. This will maintain their gimmick of being based around music.
The resort will be one of the biggest in the world with 48 floors in total and more than 90% of the floors will have a gambling license in place.
If they do decide to build the resort in the shape of a guitar, it will be just the second like it in the world. The first, also built by Hard Rock, will be opened officially later this year er and is based in Hollywood.
The Hollywood Hard Rock building will be almost 500 feet tall and will feature more than 600 rooms for guests to stay in. It's anticipated to be open by the end of October.
Built in sportsbook
The new resort will also include a sportsbook. Codere will be operating the sports betting aspect of the Mexico City resort after signing a deal with SIS Ltd. The SIS deal will be related to Codere properties in both Mexico and Spain.