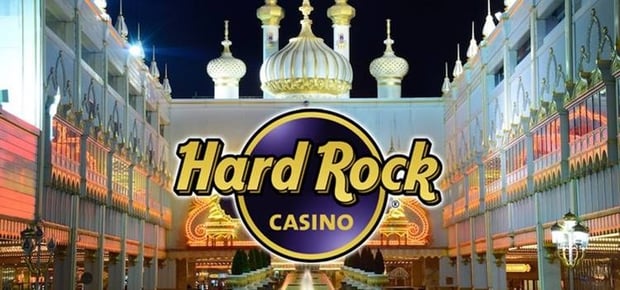 Hard Rock - The first signs for new Atlantic City casino

Mathias Jensen

Published 07/05-2018
On Friday, workers put up the first sign for the Hard Rock Hotel & Casino Atlantic City, identifying the latest addition to the famed boardwalk. The new facility is due to open on June 28.
The site of the former Trump Taj Mahal Casino Resort, which closed in October 2016 in the midst of a heated labor dispute, is presently being redeveloped into the Hard Rock gaming and entertainment complex, due for opening in under nine weeks.
Former owner Carl Ichan sold the property to Hard Rock International, who are based in Florida, in spring 2017. The company announced plans to invest over $500 million to turn the building into a casino resort with a rock `n` roll theme, with the iconic minarets of the Taj Mahal being replaced by guitars and other memorabilia.
On Friday, workers installed eight-foot-tall "Hard Rock Hotel and Casino" golden letters into place, 11 stories above sidewalk level on the part of the property that overlooks Pennsylvania Avenue. This installation represents an important landmark as the hotel and casino resort moves towards its planned opening.
The casino achieved another landmark earlier this week, when it hired his 3000th employee. A 54-year-old craps dealer from Atlantic City, Leonard Coleman, was the 3000th person to be offered employment by the operator in its newest development. It is planned that another 500 people will be hired before the opening.
Casino License Hearing
The Hard Rock Hotel and Casino resort is still waiting on the New Jersey Casino Control Commission to award it a license. It has been reported in local media that a hearing regarding the application will be held on Wednesday, May 9.
The Commission will want to interview senior officials for the new endeavor, including Hard Rock President Matt Harkness, investors Jack Morris and Joseph Jingoli and the Hard Rock International CEO and chairman Jim Allen, before they decide on awarding the license.
Hard Rock is not the only new casino planning to open in Atlantic City this summer. The Ocean Resort Casino, formerly Revel, is also preparing to launch in summer. It has not yet named an opening date, but local media reports that it could choose the same date as the Hard Rock.
Revel operated for just two years before closing in 2014. Post-closure it was purchased by Florida developer Glenn Straub, who sold it on to the current owner, veteran Colorado-based developer Bruce Delfik.
Mr. Delfik purchased the property for $200 million and has reportedly invested the same amount in renovating and preparing it for reopening. Recently construction workers demolished a wall bounding the casino floor of the property, to allow the construction of a staircase that will lead to customers off the Boardwalk straight into the gaming rooms.