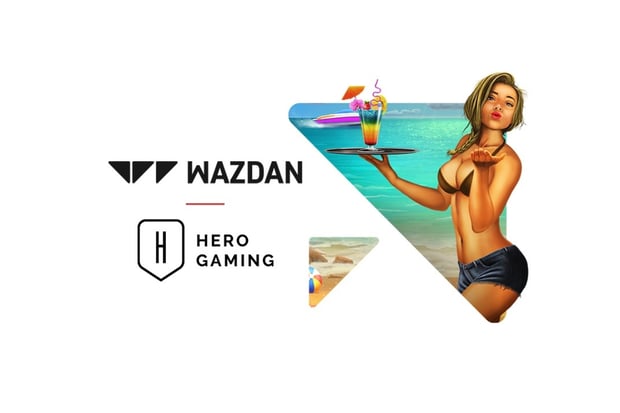 Hero Gaming pen deal with Wazdan

Mathias Jensen

Published 31/07-2019
Wazdan and Hero Gaming have signed a deal that will see a selection of Wazdan titles be featured at some of Hero Gaming's casinos.
The deal, which began at the start of July, will see Wazdan's titles appear at five of Hero Gaming's casinos. This gives Wazdan the ability to start making moves into the European market, particularly in Scandinavia, which adds onto their recent moves into trying to get a foothold in the Asian market.
Hero Gaming has been making steady increases in the products that they offer. With Casinos Heros followed by CasiTabi, it was aimed at breaking into Japan which is a highly desirable market. This was added not long after by Betser and their final addition to their roster was Speedy Casino, which is also linked to Speedy Bet. In just five short years, this is a lot of achievement.
Players come first
Hero Gaming is expanding at a rapid rate currently, with their employee numbers increasing to 100 in a short space of time. The employees are split between two offices and have a mandate to deliver games that engage players in the long term.
Hero Gaming has made it clear that they are extremely excited to be signing a deal with Wazdan. The ability to offer the Wazdan portfolio of casino games at their five casino locations is something that they were delighted to be able to offer players. Hero Gaming is well aware of their large amount of growth in a short space of time and as such are happy to attempt to grow alongside Wazdan.
Wazdan expressed a similar sentiment as Hero Gaming. In their statement, they informed the world that they intend to continue to develop world-class games to supplement the top tier titles that are already available across the group of casinos that are operated by Hero Gaming. They also expressed a lot of eagerness as to how they were looking forward to developing their relationship in the long term.
Successful portfolio
Wazdan has some of the top games on the market in their roster at the moment. They are dedicated to creating innovative and great looking titles and it's no secret that their reputation is increasing at a steady rate. They have well over 100 titles, that are all compatible with mobile devices due to being created in HTML5. Their titles range from adventure-based slots to sports slots. With Football Mania Deluxe, Great Book of Magic Deluxe and their new title Relic Hunters and the Book of Faith, all on the market at the moment, it's a great roster that looks to bring a lot of value to Hero Gaming.
Using Wazdan innovation
One of the great things about Wazdan games is that they aim to provide high levels of innovation. This isn't just in terms of the gameplay of their titles, but it also extends to all aspects of playing the game. They include customisation of the game's volatility, which is an extremely rare feature that very few providers use. There are also increased speed modes and the ability to increase winnings to an incredible amount by using the Wazdan gamble feature. On top of this, they also use a number of screen manipulation tools which are extremely useful when playing on mobile devices.
In addition to the screen manipulation features, there are other mobile-friendly features included in Wazdan games. By offering an energy-saving mode and a slimmed down version of their games, it means that games can be played on mobile devices for longer without draining the battery too much.
Releases at a show
Wazdan will also be releasing their big release for 2019 at the iGB show in Amsterdam. The game titled, Larry the Leprechaun, will be a fun Irish themed slot.