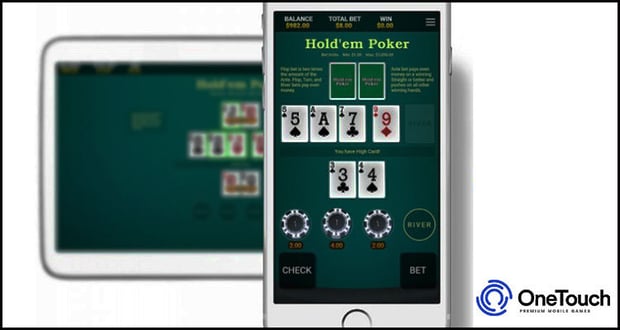 High Hand Hold'em Advance Launched by OneTouch Technology Limited

Mathias Jensen

Published 20/07-2019
Several weeks after announcing its exciting In Between Poker creation, the mobile friendly table games giant OneTouch Technology Limited has just debuted its brand new poker creation, High Hand Hold'em Advance.
Mobile First
The Isle-of-Man based OneTouch Technology Limited described its latest offering as a "mobile first poker game" which was designed to target poker fans who want to play hands of poker on the go.
It incorporates several unique features into this historic and hugely popular card game, including portrait-mode gameplay.
Big Advances
OneTouch Technology Limited launched this poker title just a few weeks after announcing a brand new Japan-themed slot Sumo Showdown. They are on a roll and keen to use that momentum here, stating that High Hand Hold'em Advance features the very best graphics and sounds and that it works just as well on desktop as it does on mobile.
According to the brand's Marketing Manager, who commented in a recent press release, High Hand Hold'em Advance features a "first-of-its-kind side bet" that will appeal to real poker fans as they look to beat the dealer and secure a big win.
He also stated that this player-versus-dealer poker title would payout as soon as a player got a three-of-a-kind hand or better, even if the dealer has a better hand than them. This will please poker fans who tire of "bad beats" as it guarantees victory as soon as those big hands land.
Big Game
The Marketing Manager for OneTouch Technology Limited proclaimed that High Hand Hold'em Advance offered an unmatched level of excitement and engagement, one that simply can't be found in other poker titles.
They added that poker was a game of skill that creates chances to win big, before stating that High Hand Hold'em Advance made these big payouts even bigger.