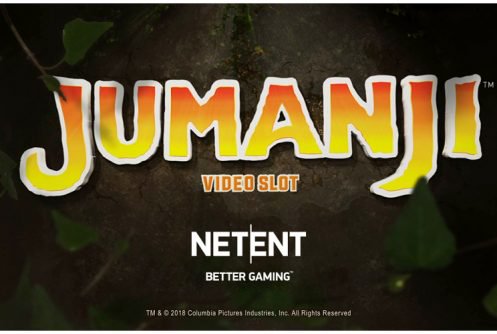 Highly-anticipated Jumanji video slot launched by NetEnt

Mathias Jensen

Published 23/07-2018
Working alongside a range of film studios, including big names Sony Pictures, Universal and 20th Century Fox, NetEnt has successfully created a wide range of branded online casino slots. Now, the company has yet another exciting online casino slot to bring to players: Jumanji. This new slot will form part of NetEnt's impressive portfolio of branded games, which includes such popular slots as Dracula, Planet of the Apes, The Invisible Man, Jimi Hendrix Online Slot, Scarface, Guns n' Roses, Frankenstein and Creature From the Black Lagoon.
Based on the original 1995 hit movie, the Jumanji video slot injects some new flavour into this family favourite. In the game, the various catastrophes suffered by Alan, Sarah, Judy and Peter become key parts of the mechanics of the game. A real innovation in the Jumanji online casino game and something not seen before in an online slot is the Board Game feature, which combines the Free Spins feature with key aspects of board games. Featuring five reels, the unique Board Game feature with four separate Free Spin features, the Mystery feature and four random features as well as additional dice rolls and coin wins, Jumanji is sure to be popular among players. The geometrically-shaped reels are, from left to right, three, four, five, four and three symbols-high.
Drawing on the misfortunes of Alan and his pals, the Jumanji online slot boasts four features that all lovers of the film will instantly recognize. First, there is Monkey Mayhem, in which potential wins are awarded when the reels stop and before the symbols are shuffled to generate a guaranteed win. Then there is Wild Stampede which sees rhinos storm across the screen and add four Wild symbols as the reels spin. Next is Sticky Vines, where all the symbols that are part of a win and all the Wild symbols from the original spin, regardless of whether they are part of the winning reel, stick to the reels while the remaining symbols spin once more. Finally, Monsoon Wilds covers one or two reels entirely in Wild symbols as the reals spin.
With a license from Sony, NetEnt has adapted the beloved film Jumanji into a supremely fun casino slot game with outstanding visuals.
Players can enjoy the Jumanji video slot on all online casinos that partner with NetEnt. Although branded online comes typically incur higher royalties, we think that most online casinos will nonetheless decide to adopt this game as part of their portfolio.