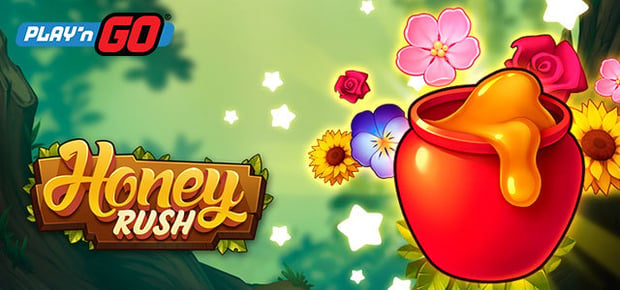 Honey Rush Slot to Feature Hive-Like Layout

Jonas Riis Vestergaard

Published 18/11-2019
Play'n GO has just announced its second slot in as many weeks as it seeks to expand its portfolio and improve its reach. The slot in question is Honey Rush and in addition to the great graphics and features that Play'n GO is known for, it features a unique layout with a hexagonal grid.
There are 37 symbols on this grid, which was influenced by a layout that has featured on some of Play'n GO's other titles, including the hugely popular Reactoonz and Viking Runecraft, as well as the recently-released Contact. It's yet another example of Play'n GO's dedication to innovation and its devotion to keep raising the bar and going one step further.
What to Expect
The symbols on Honey Rush include Diamonds, Flowers, Gold Coins, Silver Coins, and Bronze Coins. Players need to match these symbols in a cluster of 5 to trigger a win. They don't need to form traditional horizontal or diagonal paylines, as long as they are connected then it's classed as a match and a win can be triggered.
When a cluster forms, it will disappear off the grid, making way for more symbols to drop from above and take their place. This can trigger more clusters and more wins, leading to a chain reaction that turns one spin into many wins.
Honey Rush has a return-to-player average of 96% and gives players a myriad of chances to win big.
More Slots
Play'n GO has released a wealth of top slots in the last year, and just like Honey Rush, these slots are filled with unique features, themes, and mechanics. There are no hints that it will slow down any time soon, either, so we'll likely see many more Play'n GO titles hitting the headlines in the coming months.
A Play'n GO spokesperson called Honey Rush a "prime example" of what the brand is capable of, suggesting that it was everything that their fans have come to expect of them. "We always deliver", they said, and when you look at their record in 2019 and previous years, it's hard to argue with them.
Honey Rush and More
Honey Rush is now available on all Play'n GO compatible online casinos and can be played alongside its many other titles. This includes Big Win 777, which gives players a chance to scoop a multiplier as high as 777x and was made available in the last few weeks. Big Win 777 adopts a classic Las Vegas aesthetic, taking players into the heart of the City of Sin.
It also includes Cash Pump, which has its very own unique setup, featuring 4 play areas that have 3 rows and 3 columns each.