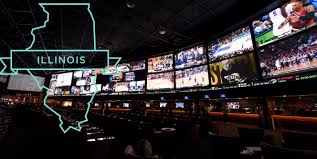 Illinois Sports Betting Bill Gets Controversial Amendments

Mathias Jensen

Published 19/05-2019
As sports betting laws change all over the United States, Illinois has joined the procession and could be set to make its own significant changes. However, the addition of two new amendments to the state's proposed sports betting legislation could cause some problems both with players and operators.
These amendments include a stipulation that operators pay a tax rate of up to 25%, a staggering figure when you consider that other US states charge less than 10% and some are closer to 5%.
The Additions
Legal Sports Report commented on these additions. They noted that Michael Zalewski became the main sponsor of House Bill 1260 and suggested some big amendments almost immediately. The first of these amendments will ensure that every operator in the state, from riverboat casinos to horse racing facilities and more, will be given the chance to apply for a sports betting license if they pay a sum of $10 million.
They would also be required to handover a sizable sum of money in tax, a sum based on their net income or adjusted gross receipts. If this law goes ahead and the licenses continue to be coveted by the state's biggest operators then it could prove to be a costly endeavor and one that may take some time to become profitable.
There are alternative options for existing operators, but these may be even costlier in the long run. The second amendment states that the ten existing riverboat casino operators in the state would be given the option to provide a land-based or online sports betting service for a fee of $5 million, but only at the expense of the aforementioned 25% tax rate.
It remains to be seen how this will go down, if the bill will pass and how it will impact the state's gambling industry for years to come, but it's fair to assume that Illinois will still attract a lot of interest from big operators as it has the sixth largest population, the 5th largest GDP, and is home to one of the biggest cities.
Changes for Lotteries and Horse-racing Tracks
The amended bill will give licensed operators the chance to operate sports betting enterprises that cover up to 1/10th of their estate, proving they pay the necessary sum for a sports betting license.
It is a different story for lotteries though. In such cases the legislation would only allow them to offer parlay betting at 2,500 exchanges, but only on the basis that they pay a $300 million fee and cover a high tax rate charged on all betting receipts.
The bill will also give horse racing tracks the chance to run sportsbooks online or offline, and there are several such facilities across the state that may be willing to take them up on this offer.
Comparisons
The state of Iowa has just passed similar laws, albeit with a tax rate as low as 7.5%, a great deal less than the one proposed in Illinois. A similar bill also passed in Indiana. In this case the tax rate was a little higher than Iowa (but still much lower than Illinois) at 9.5%, but there was also a notable difference in license fees as they are capped at just $100,000 in the Hoosier State.
A spokesperson backing the bill commented to say, "I'm not saying that we need to be as low as [they are], but when you're talking three or four times more, it just seems outrageous.".
And as mentioned at the outset of this article, it's not just the operators that may feel the impact of this tax rate, as it's also likely to impact players. There is already talk of operators offering lower odds in order to account for the decreased revenue, and lower odds means a reduced chance of winning big for the player.
Big Names and Taxes
The bill will allow big name gaming brands like FanDuel Group, best known for their involvement in the daily fantasy sports industry, to acquire one of three licenses for a sum of $20 million. They will then be asked to handover the tax rate of 25%, which will be used to bolster the state's coffers and could help to improve education and construction.
According to House Bill 1260, the taxes will help to bolster the State Construction Account Fund, as well as the Common School Fund and Pension Stabilization Fund, with a small amount also providing support for local sports leagues.