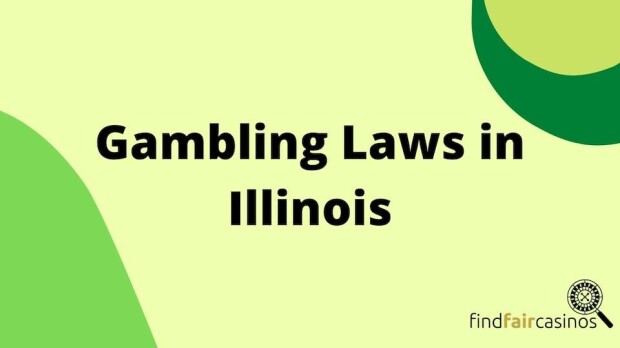 Is real money online gambling legal in IL?

Osama

Published 14/09-2021
Gambling Laws in Illinois
Under Illinois law, gambling is defined as "playing games of chance or skill for money or other thing of value." The minimum gambling age is 18 for lottery and betting on horse races and 21 for casino-style games.
In the 1920s, the state legalized betting on horse races held at local racetracks.
In 1990, Illinois introduced the Riverboat Gambling Act, which made it legal to run commercial casinos as long as they resided on boats that operated outside of Lake Michigan and counties with populations over three million people.
In 2009, a law was passed allowing local bars and other similar venues to host lottery terminals operated by the Illinois Lottery. Unfortunately, this was the last gambling law passed in Illinois. As a result, the legality of online gambling in Illinois is a bit of a grey area.
Online Gambling in the State of Illinois
Section 28 of the Illinois code states that it's illegal for people in this state to operate unlicensed online gambling businesses. However, the law doesn't mention any consequences for people who play online gambling games. The Illinois Gambling Act of 2019 legalized online Illinois sports betting, but it did not address online casino gambling. In fact, there are no state or federal laws that specifically prohibit residents of this state from participating in real money online gambling. Therefore, most experts will say that it's legal for Illinois residents to play on offshore sites.
Will Illinois Eventually Regulate State-Based Online Gambling?
The state of Illinois has on several occasions attempted to legalize online gambling. The first attempt was in 2012 when the Illinois House and Senate members tried to pass a law to regulate a variety of forms of gambling. However, the bills didn't make it through the committee.
The second attempt came in 2013. However, this attempt also failed.
In 2019, the state's legislature passed a bill that allows state-licensed sportsbook gambling. This includes online and mobile sports betting options.
In 2021, House representatives introduced Bill HB3142, also known as the Internet Gaming Act. This bill would legalize online slot machines, table games, and poker in Illinois. However, the bill has not yet been passed. With that being said, its existence seems to promise that online gambling will become legal in Illinois eventually.
Sweepstakes Sites
Although real money online gambling is not legal in Illinois, sweepstakes sites are. Sweepstake sites are an online gaming model in which players purchase sweeps coins for real money and use them to play at special online casinos called sweepstakes. Once you are satisfied with your winnings, you can redeem the sweeps coins for real money. Here are three legal sweepstakes-based online casinos operating in Illinois:
● Chumba Casino IL
Professionally, designed and easy to navigate, this site doesn't offer a mobile app but is mobile compatible. It also features a wide range of fun games for players of all levels.
● Luckyland Slots IL
Offering an experience similar to that of online casinos, Luckyland has a wide range of top games.
● Funzpoints IL
Featuring an RTP of 96%, this sweepstakes site also offers free daily jackpots.
Online Sportsbooks
You can gamble online with real money in Illinois if you place a bet with an online sportsbook. There are several Illinois online sportsbooks to choose from. These include:
● DraftKings
Featuring live betting, with instantly updated odds, players can bet on soccer, NFL, NHL, NBA, and other popular sports events.
● FanDuel
Available on various devices, FanDuel offers betting on the most popular sports, including rugby and soccer.
● PointsBet
To sign up for this sportsbook, customers need to visit the Hawthorne Race Course, but it offers identical web and mobile platforms, making it easy for customers to go from one platform to another.
● William Hill Sportsbook
Players can use moneyline bets, parlays, totals, and point spreads to place wagers on this sportsbook.
● BetRivers
This sportsbook features rapid withdrawals and instant bets.
Conclusion
Real money online gambling is illegal in the state of Illinois. However, online sports betting and sweepstakes sites are legal. Furthermore, there are no laws dictating punishments for Illinois residents who play at online casinos. Therefore, it would seem that you can play on offshore sites with no consequences, but you can't run an online casino from the state.