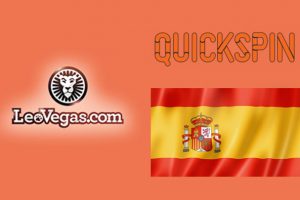 LeoVegas start up in Spain and reveal Quickspin in Denmark

Mathias Jensen

Published 10/08-2019
Recently, Quickspin have signed an extension to their deal with LeoVegas. This agreement is expected to see the reveal of Quickspin titles on LeoVegas casinos in Denmark.
This comes after Quickspin kept up their rate of more than one slot release a month, by releasing their eighth video slot of 2019 - Prime Zone.
New tools and features
The new deal will give LeoVegas access to almost the entire Quickspin catalogue. This will include all of their new gamification tools, which is the latest feature that casinos are desperate to add to their services. Casinos have also shown interests in adding almost 50 of their video slots. This deal will also include all of their new releases and their most popular past releases.
The deal will also include Hall of the Mountain King, which has grabbed an incredible amount of interest from both players and people in the industry. Partly due to the great story, but also the high volatility leads to big potential wins.
Continued deal
LeoVegas have released a statement which says that they are delighted to be able to continue their partnership with Quickspin. The quality of casino games on offer as well as the features and tools that they offer make them one of the best providers in the industry.
Quickspin had a similar sentiment, saying that they were excited about the chance to keep working with LeoVegas. As this is a deal that has been at the center of their operations for a long time, the ability to keep expanding in the Danish market is important to them. Their popularity has never been higher and this new deal will allow them to reach more players than ever before.
Other deals on the table
Quickspin have also signed a deal with Svenska Spel Sport & Casino. This will allow the Swedish casino offer all of their video slots, which adheres to the Swedish regulations, to be available on their Online Casino by the start of July. This will allow Quickspin to keep expanding in the Scandinavian market. Especially as they have given their approval to use their award winning titles like Big Bad Wolf.
New casino in Spain
LeoVegas haven't just been making deals with software providers. After applying for a license to trade in Spain, near the end of 2018, they have finally succeeded in gaining their license and will now be able to open their first Online Casino in Spain. This will lead to a soft launch at first, before they launch fully later in the year. This becomes the seventh country that LeoVegas are regulated to operate in and allows them to expand even more.
LeoVegas realized that the Spanish market is ready to expand. In Spain, just 13% of all casino games are played online. Which gives LeoVegas plenty of market to capture and grow. They also intend to aim more for the mobile market because most players now prefer a mobile casino due to the very fast improvements within that sector.
Although, they have only had the license for two weeks, the infrastructure that LeoVegas have means that they were able to launch softly in that short period of time. Their ability to work within regulated markets without breaking the terms of their license shows that they are one of the strongest companies on the market right now.