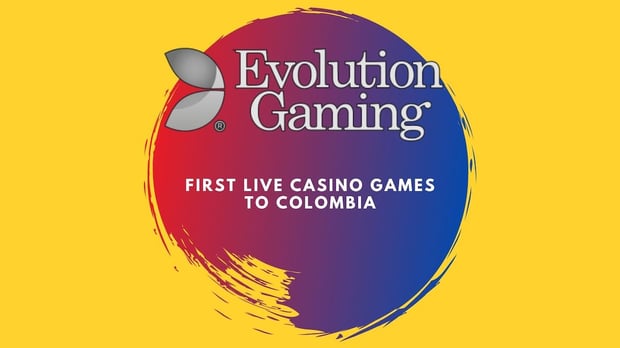 Live Casino Games come to Colombia for the First Time Via Evolution Gaming

Published 20/11-2020
Evolution Gaming has managed to set another record by becoming the first live dealer casino game provider to operate in Colombia. Because regulations have recently been introduced in the iGaming industry within the country, it means that a lot of companies will be entering into the sphere. For live players though, the only choice currently is the industry leading selection that's available from Evolution Gaming.
Very First Provider in Colombia
It means that Evolution Gaming will have the opportunity to build up its reputation before any other developer can even release titles. As it is already regarded as the top live provider around, this could see Evolution Gaming instantly establish itself as the market leader within the South American country.
One of the reasons that Evolution has been able to make the smooth transition to the Colombian market is because it already offered Spanish language options for its games. It means that Colombian players can easily access the titles and will be able to enjoy the great selection as soon as they are released.
Big Things Expected by Evolution Gaming
The casino operator that will be seeing Evolution Games arriving has commented saying that with the new regulations in place, it means Colombia can finally start to catch up to the rest of the world in terms of online casino offerings. It means that the online market can begin to work on a par with the brick and mortar market.
They continued to say that by signing a deal to offer Evolution games at their sites they would be providing Colombian players with some of the very best live casino games. It means that it will allow the site to keep its place as the top online casino in the whole of Colombia.
The CEO of Evolution Gaming commented that he was extremely happy to have signed a deal to offer titles to the Colombian market. It means that Evolution Gaming will become synonymous with live gaming in the region, just like it already is around the rest of the world.
He also carried on to say that he feels the quality of Evolution's titles will help to keep it at the top of the market. The company is releasing its titles to just a single operator at this moment in time, but is looking forward to expanding this over the course of 2021. This could see Evolution Gaming dominate the live gaming market in Colombia for years to come.
Are you a Colombian player? Read more about one of our online casinos available in Colombia: