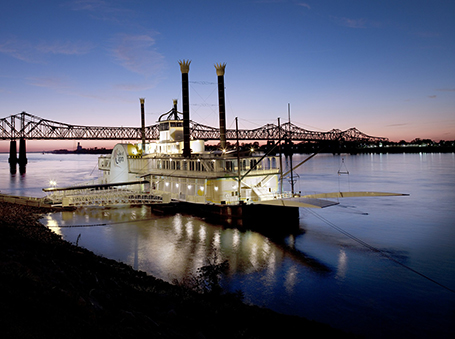 Louisiana's riverboat casinos set to come ashore

Mathias Jensen

Published 31/05-2018
In April, the Louisiana State Senate voted 22-14 to approve a riverboat casino bill. Now, the Pelican State's riverboat casinos have been approved to relocate onto land.
Senate Bill 316 is sponsored by Louisiana State Senator Ronnie Johns and was approved with a vote of 54-41. This bill permits 15 riverboat casinos, including the Belle of Baton Rouge Casino Hotel and l'Auberge Casino Resort Lake Charles, to come ashore.
The bill now sits with Governor John Bel Edwards, who is expected to sign-off the measure and make it law. According to NOLA.com The Times-Picayune, the governor previously stated his intention to sign the bill. His spokesman Richard Carbo, however, stressed that Edwards will review the proposal fully before reaching a verdict on the bill.
The bill proposes an amendment to the restrictions placed on riverboat casino facilities. While the premises are currently limited to 30,000 square feet of gambling space, under the new bill, sites would be limited to 2,365 gambling positions. The terms of the proposed law explain a gambling position to comprise everything from spaces at gaming tables to slot machine seating. According to NOLA.com The Times-Picayune, Senate Bill 316 provides the floating casinos with increased gambling positions, regardless of whether they relocate onto land.
Also included in the bill is provision for the gambling vessels to host four gambling tournaments per year, with each lasting up to 14 days. The bill also permits the vessels to reposition on land, provided the new location is within 1,200 feet of their current berths, and they can supply the Gaming Control Board with sufficient evidence of "economic development" to justify the move. Further, the riverboat casinos would no longer be required to maintain an operable paddleboat.
According to the news agency, supporters of the bill explain that some of the vessels need to relocate on health and safety grounds. In particular, the Hollywood Casino Baton Rouge and Belle of Baton Rouge are both berthed on the Mississippi River, which is not considered to be a safe location.
According to a retired officer and superintendent of the Louisiana State Police, with the floating casinos berthed on the Mississippi, "it's not a matter of if, it's a matter of when, we are going to have a catastrophe out there." The retired officer, Rep. Terry Landry, is also a former director of the gaming enforcement division.
Following approval of the riverboat casino bill, a 69-19 vote marked agreement to a similar change to the gambling space restriction imposed on the state's four racinos. This measure will amend their 15,000 square feet restriction to one of 1,632 gambling positions. With 4,461 gambling positions currently reported at racetracks with video poker and slot machines, the proposed measure is expected to increase this figure to 6,528.
Returning to the Senate for a second vote, the racetrack bill will be passed onto the governor if successful.