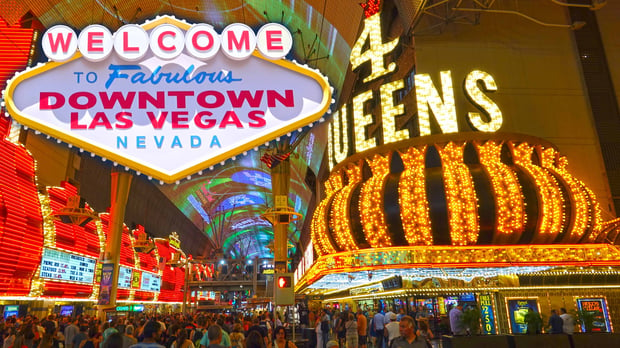 Nevada Casino Revenue Tops $1 Billion for February

Mathias Jensen

Published 11/04-2019
Gaming revenue slowed for Nevada's casinos in February, with a 0.62% reduction on the previous month, but they still topped $1 billion. The gaming revenue on the Las Vegas strip was down even more at nearly 2%, but there were some upsides, including increased revenue for Clark County, which saw an uptick of 0.44%.
The best outcome was seen in Downtown Las Vegas, which saw an increased revenue of 9%. However, it was good news on the whole, because as a spokesperson from the Gaming Control Board noted, "Whenever we see a billion dollars in gaming win we are pleased". The decrease was slight and doesn't necessarily signal anything bad for most of the state's casinos.
There were some exceptions though.
Bad News for Lake Tahoe
There were significant drops in gaming win revenues for Lake Tahoe, although these are believed to be the result of bad weather and are not expected to sustain as we approach the spring. A spokesperson suggested that if the weather had not been bad they would have likely seen revenues greater than what they had this time last year.
These revenue dips took a toll on the area's profits, with a huge drop of 24.7% in the North Lake Tahoe region and a 26.6% decrease in the south. A lot of this resulted from a poor showing on President's Day weekend, which occurred in the middle of the month. This weekend is usually huge for the casinos in Lake Tahoe, but the bad weather meant that motorists were urged not to drive on the main highways that lead to the region's casinos.
According to a local TV news station, the snow was so thick during this typically popular period that even the snow ploughs couldn't deal with it and had to call it a day. Several routes to Lake Tahoe were shut down as a result, which stopped many potential big spenders from entering the region and getting over their winter blues by gambling.
Big Wins
Gaming win revenues refer to the profits that these casinos generate, so if players are able to win big then this will also impact greatly on how much the casinos generate. A spokesperson for the Gaming Control Board suggested that the game of baccarat had a big role to play here, with revenues down as a result of fewer players and luckier players.
Baccarat revenues have actually decreased in 7 of the last 8 months, and this could be something to worry about. Baccarat is a game of chance that often appeals to high-stake players, which means casinos come out on top and generate huge sums when they do.
Nevada's slot machines managed to stem the loss, generating over $600 million, compared to the $400 million or so generated by table games. This is not the first month that they have surpassed table games, it's actually the sixth month in a row that slots have beaten table games.
Sports Betting Increase
Sports betting takers are very small in comparison to table games and slot machines, but they seem to be on the increase, and by quite a long way. The total revenue for sports betting in February was just shy of $36 million, an increase of 235% from the same month last year.
This is said to be largely the result of a successful Super Bowl showing for the bookmakers, as well as good returns in the NBA. According to an industry expert who commented on these results, this profit "vindicates" the people who said that the broader expansion of sports betting across the US would not hurt sports books in Nevada.
Sports bettors in this state can't bet on all sports on all events, and while there are still a number of them to choose from (including e-Sports, tennis, cycling, golf, rugby and soccer) they typically focus on the biggest American sports, including football and basketball. The biggest events, and the ones that attract by far the most bets, are the Playoffs and Finals across all major sports.