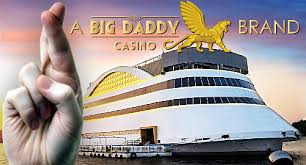 New Casino in Goa Hopes to Stay Afloat

Mathias Jensen

Published 20/05-2019
A brand new floating casino in the Indian state of Goa is hoping that it can draw in the tourist crowd and stay profitable in what has proved to be a very difficult sector for this region.
The Big Daddy Casino recently began its opening day celebrations, which are due to extend for 11 full days and will provide a host of benefits to the players who venture inside during this period. The Big Daddy Casino is located on the MV Lucky 7, a 72-meter long ship operated by Golden Globes Hotel (GGH), who claim it to be the biggest and the best of its type in all of Asia.
The Ship
The vessel in question was built back in 1995 and has had a somewhat troubled past. It ran aground in the summer of 1997 while it was being towed to a permanent location, and it took several months for repairs to be made and for the ship to be moved.
GGH's reputation took a hit when this happened and they haven't fully recovered from that, but they have gone to great lengths to try and ask the locals forget about the previous issues and to treat Big Daddy Casino as the new and exciting venture that it is. They have stocked the ship with 110 gaming tables across three levels, and they have hired a slew of Bollywood stars to promote it.
Big Daddy Casino is also packed with dining and entertainment options, ensuring that it provides a complete entreatment venue for locals and tourists alike.
A Busy Time
The Big Daddy Casino launched comes at the same time that the Indian state of Goa is experiencing a surge in the popularity of this pastime. Experts suggest that this surge is the result of increasing violence and terror attacks in Sri Lanka, with the idea being that many tourists will now head for Goa whereas in the past they might have chosen to gamble in Sri Lanka.
According to estimates, Goa may acquire three-quarters of the gamblers that decided against visiting Sri Lanka and this, in addition to the many tourists that visit the region and the 1.5 million local population, is more than enough to ensure Big Daddy Casino says busy.
The floating casino industry in Goa operates on limited licenses of just 6 months. However, these seem to be in plenty supply and extensions are not proving difficult to come by. The government is stalling on their plans to move casinos in-land and in the meantime this will ensure that floating casinos like Big Daddy attract the bulk of casino players.