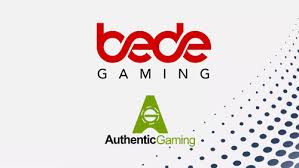 New Contract Signed Between Authentic Gaming and Bede

Mathias Jensen

Published 05/05-2019
Bede Gaming, based in Newcastle, England, has just signed a deal with Authentic Gaming that will see them significantly boost the capabilities of their growing platform and allow them to offer many more top titles to their customers.
As per the terms of the deal, Authentic Gaming will supply games like Authentic Roulette and Casino Floor Roulette to Bede Gaming, and these games will then become available to the British company's partners.
A New Partnership
The Commercial Director for Bede Gaming commented on the deal with Authentic Gaming, saying how delighted they were to have put pen to paper and acquired a host of licensed live casino games to offer to their partners.
He went on to say that the agreement underpinned the reasons Bede was the "first-choice platform for operators targeting expansion in multiple regulated markets", before adding that they expected Authentic Gaming games to be a big hit.
This excitement and promise was echoed by a spokesperson for Authentic Gaming, who added that they were looking forward to what they expected to be a long and "rewarding" partnership.
Accessibility
The deal will give all of Bede Gaming's operators access to the wealth of titles that have, in addition to the several thousand other titles that Bede already have as a result of their other partnerships.
Bede have taken several major steps to improve their offerings in recent months, and in March of this year they signed a deal with the European Lotteries Association, which could see it become as much of a force in the online lottery sector as it is elsewhere.
If recent events are anything to go by, there's also a good chance that we will be hearing more from Bede Gaming in the coming months, as 2019 looks set to be a big year for the brand.