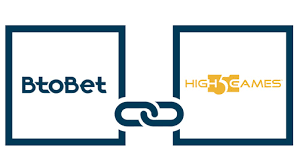 New Deal for High 5 Gaming and BtoBet Could Prove Significant

Mathias Jensen

Published 26/02-2019
High 5 Gaming have just made a deal with BtoBet that will see them utilize their software to expand their range and offer even more to their growing base of customers. It's big news for High 5 Gaming and for fans of this brand, and it also bodes well for online gamblers across Europe.
The Neuron Gaming Platform
High 5 Gaming will look to use BtoBet's Neuron Gaming platform, utilizing its unique customization options to ensure that it creates something unique and something that is different from what BtoBet already offer. High 5 Gaming, or H5G as they are often known, have a significant presence in the social casino sector.
This move will see them grow even bigger and expand fully into the real money sector. It means they can expand into nearly 50 countries around the world, covering 6 continents and millions upon millions of players.
To understand why this is a big deal you only need to look at how High 5 Gaming fair in the social casino sector. Their software is downloaded more than 17 million times every year and in addition to their big presence in Europe they are also well known in Asia, with their Shake the Sky Casino standing as the largest Asian social casino in the world with more than half a million players every single month.
What They Said
The founder and CEO of High 5 Gaming, Anthony Singer, was clearly excited by the merger and proud of how far his company have come in such a short space of time. He was quoted as saying that the goals of H5G were "well aligned to gain valuable market share in established markets".
They have the world of real money gambling at their feet and are ready to seize any opportunities that come their way.
This sentiment was echoed by Alessandro Fried, the CEO for BtoBet. He noted that both companies have achieved great success in their respective markets and that together they can become even bigger and gain even more respect within the gambling community, "seizing any future opportunities [the market] presents" to them.
Another Big Deal for H5G and BtoBet
H5G clearly have big things planned as this isn't the only notable deal. They recently launched their services in Sweden after teaming up with NYX/SciGames Digital to launch a series of casino games specially tailored to the Swedish market. These games include Joker's Riches as well as the unique Silver Enchantress, and have helped H5G to make a quick and immediate impact.
BtoBet have also made some big moves recently after announcing a deal with IslandBet. This company operates in Jamaica and will help BtoBet to expand their operations in Latin American and the Caribbean. The deal meant that BtoBet will be responsible for providing integrated technology to IslandBet's sports betting and interactive gaming solutions.