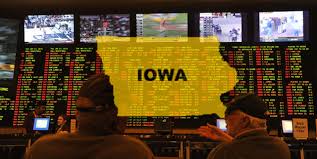 New Gambling Legislation Approved by Iowa Senate

Published 23/04-2019
The Iowa State Senate recently passed legislation that could drastically change the sports betting and casino landscape in the state of Iowa. This bill aims to legalize land-based and online betting in The Hawkeye State, with players given the chance to bet on a wide range of professional sporting contests.
Step 1 Complete
According to a recent report, the 50-strong Iowa State Senate approved Senate File 617 by a margin of 31 to 18, which means the bill will now move onto the next step. It doesn't mean that it will be passed and there is still some way to go and a few hurdles left to clear, but the size of this margin is positive and bodes well for the bill as it heads to the Iowa House of Representatives.
This bill, and many others like it across the US, was made possible after the PASPA was scrapped. This law made it difficult for any states outside of Nevada to offer sports betting services, but now that this law is no longer in place state governments are taking steps towards changing gambling laws at a regional level and the country has already seen some major changes.
The Tax Benefits
One of the biggest benefits of this bill is the potential for additional tax revenue and licensing revenue. The bill states that all of Iowa's land-based casinos will be allowed to offer sports betting services providing they pay a licensing fee and cover a 6.75% tax rate. It will also see the legalization of sports betting through fantasy sports websites like FanDuel and DraftKings.
All operations will be overseen by the Iowa Racing and Gaming Commission, but the bill includes a provision that will forbid betting on college-level sports, which are watched by tens of millions of people across the country every single week, but simply don't have the same level of commercialism as professional sports.
The belief is that punters will always find a way to gamble, regardless of its legal status in their state. By legalizing sports betting in Iowa not only will they be controlling the industry and keeping bets within legal and regulated premises, but they will also generate an active profit via tax revenue, which could then be used to assist problem gambling organizations.