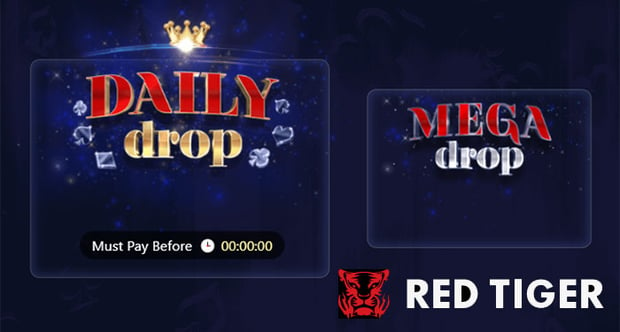 New Jackpot Network Introduced by Red Tiger Gaming

Mathias Jensen

Published 24/10-2019
In April, Red Tiger Gaming launched the Daily Drop Jackpot Network, which was well received by players in several regulated markets. That network has gone one step further with the inclusion of hourly prizes.
The Isle-of-Man-based Red Tiger Gaming announced this new innovation in an official press release, noting that the Daily Drop Jackpot Network had already released close to $9 million in prizes and was a huge hit with casinos and players alike. Improving upon this network wasn't an easy task, but it has managed to do just that and will no doubt receive even more attention and praise as a result.
The Daily Drop Jackpot Network
According to a spokesperson for Red Tiger Gaming, casino players can now enjoy the Daily Drop Jackpot Network innovation across a selection of gambling domains, all of which are regulated by the Malta Gaming Authority. They will be given the chance to fight for these hourly prizes every single day, with the winner walking away with the money and everyone else waiting for the next hour and their next chance at success.
The press release also stated that the Daily Drop Jackpot Network innovation is being rolled out across all of the brand's video slot titles, including Mega Rise, a simple slot machine with an old-school aesthetic that was released just prior to this announcement. The cash prizes regularly hit 4 figures and are always worth getting excited about.
Lucky Players
The aforementioned press release went on to describe some of the big wins that have occurred thanks to the Daily Drop Jackpot Network. One such win came in August, when a Betsson player scooped a sum of just under €80,000 following a bet of €2. This win came on Red Tiger's Dragon's Luck Power Reels slot, which features just 10-paylines.
"It has gone from strength to strength," the press release said in reference to Daily Drop Jackpot Network, adding that this network was a "win-win" for everyone concerned, from the brand that increases its exposure and presence, to the casinos that get more players, and the players that have a chance to win big.