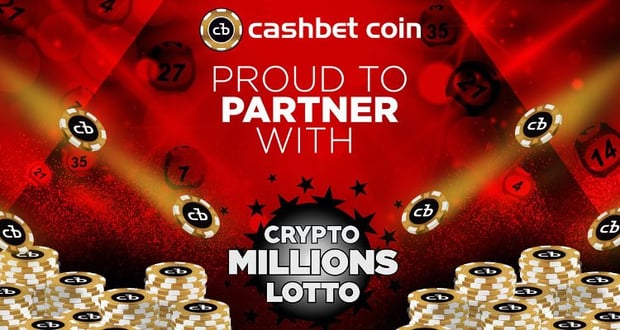 New partnership between CashBet and upcoming CryptoMillionsLotto

Mathias Jensen

Published 11/07-2018
A new deal has been signed between mobile online gaming operator and provider CashBet and the upcoming virtual lottery CryptoMillionsLotto. This new deal gives CryptoMillionsLotto permission to use the CashBet Coin crypto-currency.
According to CashBet, CryptoMillionsLotto will launch in late summer and will allow players from across the globe to win prizes on a par with those offered by national and state lotteries in the US and Europe.
After recently completing its initial coin offering for CashBet Coin, the virtual currency operator generated around $38 million. It has announced that CryptoMillionsLotto will be created in the design of the AfroMillionsLotto service that runs over 30 African charity and sports lotteries. The service provider hopes to generate wider interest through its use of a crypto-currency option.
According to CashBet CEO Mike Reaves, the firm is very happy to add CryptoMillionsLotto to its growing collection of global gaming partners. CryptoMillionsLotto will, he said, permit CashBet Coin holders to engage in lottery games, and to be in with a chance of winning a life-changing amount of money.
Established in 2012, CashBet also announced that new business CryptoMillionsLotto will allow its gamers to wager CashBet Coins on German lottery draws, and that all jackpots will be covered by an insurance broker regulated by the Financial Conduct Authority.
According to Sulim Malook, Director for RSN Entertainment Limited who will operate CryptoMillionsLotto, the firm is thrilled to name CashBet Coin as its exclusive token. They recognize, he said, the global validity of the token, and strongly believe that it will enhance the CryptoMillionsLotto offering.