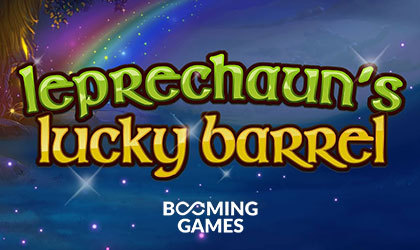 New releases for Booming Games and Greentube

Frederikke Pedersen

Published 17/08-2019
Booming Games and Greentube have felt the same bolt of inspiration and have decided to release slots themed around mythology. With both slots offering players five reels and 20 ways to win, the only real difference is the mythology that each game is based around.
Luck of the Irish
Booming Games has made the first strike with their game Leprechaun's Lucky Barrel. This takes the popular Irish folk story of leprechauns that offer people the chance to grab a nice prize at the end of a rainbow.
Something familiar
Booming Games has taken the safe option of choosing features that are synonymous with the myth of the leprechaun. With what looks like pints of Guinness landing on the reels, as well as the leprechauns themselves, it is obvious what the theme of the game is from the off. With a medium variance on offer, there is no danger of a long wait between wins.
Exciting features
Booming Games has released a statement about the mobile-friendly title. They feel that the standard game is enough to keep players interested in the long term, due to the regular wins and great looking graphics. However, they have also added a range of bonus features to really make sure that the game is likely to grab the attention of players.
Viking warriors
Greentube has used HTML5 to develop its latest title, Spirits of the Valkyrie. The game is set in the midst of the Vikings, where the aim is to help the Valkyrie in their quest to help Viking warriors make their way into the afterlife.
Mythological themes
The game uses random activation for its features. Despite this volatile way of triggering bonuses, it still offers players an ample amount of fun in the game. Because the game can be played on any platform, it allows players to experience these top-class features no matter where they are. It's seen as their top title at the moment and Greentube expects it to instantly make its way into most players favorite game lists.
Because the game offers players a range of incredible features, which included roaming wilds, additional wild symbols and even the ability for winning lines to be boosted, Greentube really thinks it will blow the minds of most players. The added bonus of extra spins being on offer just really pushes it over the edge into one of the most stacked games on the market.