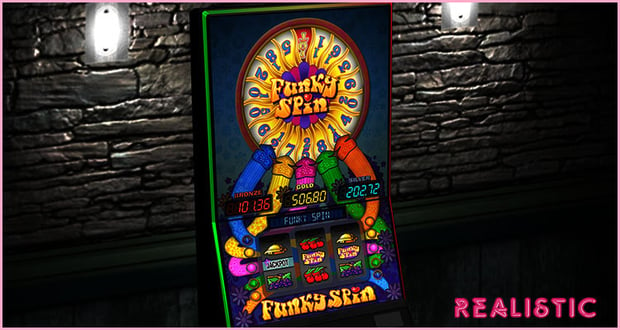 New slot from Realistic Games

Mathias Jensen

Published 04/08-2019
Realistic Games have made waves in the industry by announcing that they will be releasing their very first video slot that has a progressive jackpot. Funky Spin will be a five reel video slot that is expected to bring in a great deal of interest in the British based software developer.
3D gaming
The game is expected to be highly innovative. It is to be played via a 3D virtual cabinet, which gives players the ability to become totally immersed in the experience. As it has been created to be compatible with HTML based platforms, the game should be available at a large number of outlets. It will also include an almost retro-themed set of symbols to really take players into the zone.
Huge wins
Funky Spin will be available on both desktop and mobile devices. Adding to that it can also be played in portrait mode or landscape mode, depending on what the player prefers. There will be up to 24 prizes in total on the game and it intends to debut a new slant on the way that progressive jackpot video slots are played. It even has customisable RTP levels so that each casino can offer a different experience to the players.
Making waves
Realistic Games feel that Funky Spin will be a game that will provide the progressive jackpot market with a real shot in the arm. There will be a number of ways to win one of the 24 prizes included in the game and there will also be three progressive jackpots included. The game offers a number of different layers that mirror some aspects of traditional progressive jackpot games but also takes things into new territory. There will also be instant wins and respins that offer a guaranteed win!
All of this comes together to create a game that Realistic Games feel will be a highly popular progressive jackpot. With hyper-fast wins coming up and three different sized progressive jackpots, there is plenty there for even the most demanding of players. Realistic Games feel that it should excite both players and operators alike.