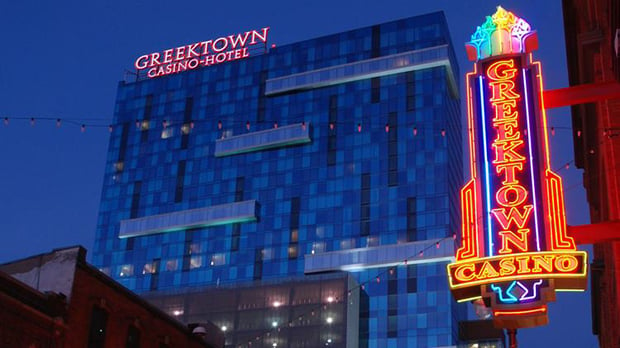 New sportsbetting scheme involving Greektown Casino Hotel

Mathias Jensen

Published 30/11-2018
Penn National Gaming Incorporated, the American regional casino company, has stated that if the Michigan Gaming Control Board approves its plans for purchasing the Greektown Casino Hotel in downtown Detroit then it would like to run a sportsbook operation through the venue.
Reports in the Detroit News last Wednesday asserted that the Pennsylvania-based company has come to an agreement to purchase the 400 room hotel along with its partner Vici Properties Inc – a real estate investment trust - from the Caesars Entertainment Corporation. The present owner, Jack Entertainment, has apparently agreed to the $1 billion deal, to be completed by the end of 2019, and Penn will then ask for clearance to operate the first sportsbetting service based in a Michigan casino.
Public Affairs and Government Relations Senior Vice-President for Penn, Eric Schippers, told the News that his company would be paying $300 million for operational rights for the 30-story Greektown Casino Hotel and that they wanted to add a sportsbook to its current offerings.
Schippers stated: "We would love the opportunity to offer sportsbetting there. That is something we are going to be exploring legislatively. MGM Grand Detroit has been working hard to bring about sportsbetting in Michigan. We want to join the team and take action on it."
The News further stated that the US Supreme Court's action in May in dismissing the Professional and Amateur Sports Protection Act has led to casinos being granted permission to offer sportsbetting services in Delaware, New Jersey, New Mexico, Nevada, Mississippi, and West Virginia. Pennsylvania and Rhode Island are set to follow suit shortly, and Penn will be hoping that Michigan legislators will see fit to do the same.
The newspaper noted that in June the Michigan House of Representatives had passed legislation permitting Detroit's three casinos to provide online gambling services as early as summer 2019. This measure, HB-4926, only covers games like blackjack, poker, and roulette, and so further permission from the Michigan Gaming Control Board would be required before online sportsbetting was legalized.
The report stated that Penn National Gaming Incorporated operates around 40 facilities throughout the USA, including the Hollywood Casinos in Columbus and Toledo, Ohio. The company already runs sportsbooks at its Nevada, Mississippi, and West Virginia facilities, and anticipates launching the same facility at the Hollywood Casino at Penn National Race Course (Eastern Pennsylvania) within the next few days.