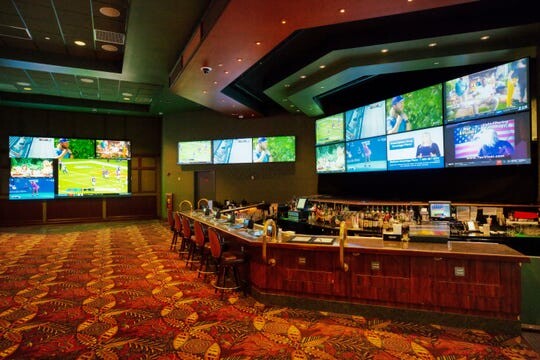 New sportsbook opens in Indiana at Rising Star Casino

Jonas Riis Vestergaard

Published 27/11-2019
SBTech have announced a partnership with Rising Star Casino. This will see their high class betting technology become available to customers who want to take part in sports betting. This is the first move into Indiana that SBTech have made.
This will be the sixth state that the Isle of Man based company will be making a move into during a period of just a year and a half. This is part of their attempt to increase their market share across the country. It is also the latest of three sportsbooks that have opened in the surrounding area with Kentucky and Ohio also getting sportsbooks.
The general manager of Rising Star Casino was the man tasked with cutting the ribbon for the new sportsbook, with former NFL stars from neighbouring Cincinnati also in attendance. They were there to place the very first wagers at the new venue.
Bringing in more revenue
The GM of Rising Star said that he was very excited to have overseen the opening of a new sportsbook. He felt that this would not just provide Rising Star with additional revenue, but it would also bring in more revenue for the state in taxes, not just from the sports betting but also from the new jobs that it is expected to create.
This new sportsbook comes after Indiana signed a gaming legislation that makes sports betting legal. It was set into law in September of this year and made Indiana the 12th state to allow sportsbooks to offer the service to patrons. When this happened 14 different venues were all given licences to offer sports betting to customers.
The SBTech president for the US branch of the company said that they were also excited to be offering sports betting to customers in Indiana. They feel that they have managed to show a great deal of success with their products so far and feel that they will be able to continue this with what they offer at Rising Star Casino.
Well-known brand
Churchill Downs are also included in the partnership and are part of the deal. They say that they are happy to be working with Rising Star and SBTech in order to bring about the new sportsbook. They feel that the technology that SBTech provides is top of the line and should help them to provide a top quality experience at the Indiana casino.
People within Indiana will have the opportunity to experience a huge sportsbook at Rising Star, which is expected to cover more than 2,500 square feet. It will have more than 20 events on offer with all of the most popular sports around the world included in the betting markets.
Brick and mortar sportsbook
The venue itself will contain more than 30 TVs in order to show live sports events. There will also be a selection of touchscreen betting kiosks and traditional bookmakers' windows. There will also be a bar available to players who want to take a drink with their bet.
This new deal will also see an online sportsbook become available which is expected to cover the entire state. This new deal means that there will be two online sportsbooks available in the state after Bronco Billy's also received regulatory clearance.
CDI has also released a statement about their new deal to provide a sports betting system. They feel that they are one of the market leaders in the sports betting industry and will be able to offer the best experience in Indiana. They will be offering their innovative systems to both brick and mortar venues and to mobile devices.
Increasing statewide revenue
The gaming commission in Indiana has released figures that show more than $90 million was taken in sports betting wagers during October. This is only the second month that the activity has been legal which is a very impressive figure. The figures also showed that the mobile sportsbooks took the most revenue covering over half of the total.
DraftKings took in more than a third of the total sports betting revenue during October, with their mobile sportsbook outperforming the other two on the market. The other two still managed to bring in more than $8 million between them, although this was dwarfed by the almost $40 million that DraftKings brought in.
Mobile sports betting started on October the 3rd in Indiana which means that this large amount of revenue was created in less than a month. The close states of Kentucky and Ohio do not have a mobile sports betting bill yet, but it is planned in the near future.