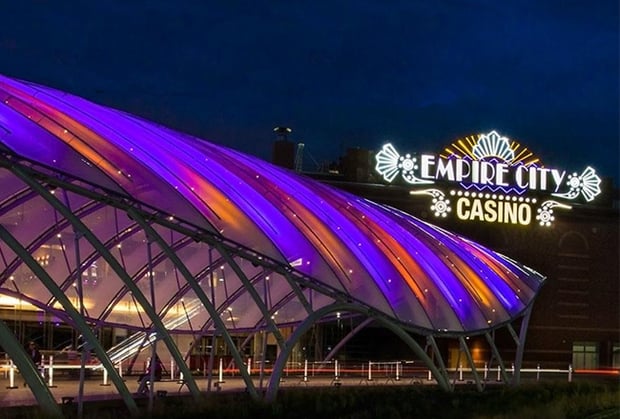 NY-Based Empire City Casino Acquired by MGM Resorts for $850m

Mathias Jensen

Published 01/06-2018
Last week, Major American entertainment and global hospitality company, MGM Resorts International (NYSE: MGM), announced that it has signed a contract to buy New York-based Empire City Casino for an $850 million price tag in collaboration with its real-estate investment trust, MGM Growth Properties LLC (NYSE: MGP).
If recent new releases are to be believed, in addition to funding the purchase with a combination of a cash payment and $260 million in stock, MGM Resorts agreed to take responsibility for around $245 million of Empire City's outstanding debt. MGM also agreed to pay an additional $50 million when Empire City gained approval to host live table games, which is expected by the end of 2022. In combination, this brings the total cost of the deal to $900 million.
A press release also disclosed how MGM had agreed to sell the Yonkers property to MGM Growth Properties for the princely sum of $625 million and would subsequently lease it back at the cost of $50 million a year. The property will subsequently be operated by a subsidiary of MGM Resorts.
Talking about the deal, Jim Murren, Chairman and CEO of MGM Resorts described how the group had high hopes for the acquisition of Empire City: "This acquisition represents an excellent opportunity to further solidify our presence on the East Coast, and in particular, expand our reach into the high-density New York City region. We believe this transaction enhances our free cash flow profile and presents attractive future opportunities for the Company, and we look forward to welcoming the Empire City team and guests to the MGM Resorts family."
It is highly likely that this latest move from MGM stems from the May 14 Supreme Court decision that overturned the Professional and Amateur Sports Protection Act (PASPA). As a result of this ruling, many states around the United States, including New York, are rushing to earn names for themselves on the sports betting market.
In total, around 18 states have either introduced or passed sports betting bills in recent months.
Empire City, which is part of Yonkers Raceway, offers simulcast and live horse racing, in excess of 5,200 slot machine games, video poker, and many other online table games. Yonkers Raceway itself was originally founded as the Empire City Trotting Club before being acquired by the Rooney family in 1972. They remain the majority owners and are also the operators of the NFL's Pittsburgh Steelers.
According to The Las Vegas Review-Journal, Brian McGill, a Telsey Advisory Group gaming analyst, recently issued a note to clients in which he highlighted how New York state legislators are endeavoring to get a bill passed before June 20, the date on which the current legislative session will adjourn. McGill anticipates that the bill will legalize sports betting in state and Native American casinos, at off-track betting facilities, on racetracks, and via mobile devices.
The Review-Journal describes a 2017 Oxford Economics report (pdf) in which analysts calculated that permitting a tax rate below 10% and legalizing access to mobile- and land-based casinos could generate income in the region of $1.2 billion annually in New York.
The recent press release on MGM's acquisition of Empire City also disclosed that the operation currently serves 16 million gaming customers in New York.