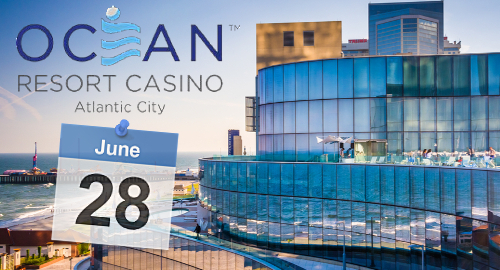 Ocean Resort Casino and Hard Rock Atlantic City Opening on the Same Day

Mathias Jensen

Published 10/05-2018
Two new casinos for Atlantic City on the same June day!
AC Ocean Walk, the company owned by Colorado developer Bruce Deifik, announced Monday that the previously bankrupt Revel casino will reopen as the Ocean Resort casino on June 28. The Revel casino cost $2.4 billion, but Deifik picked it up for $200 million in January and has invested $175 million in revitalizing the facility.
Frank Leone, Ocean Resort casino CEO, said the opening day would be "the combination of all our planning" and that the company "cannot wait to reveal what we have been working on" for the building`s new clientele. Leone stated that June 28 was going to be "a special day for Atlantic City as it turns the page of a new chapter of revitalization."
It remains to be seen how special the new casino will be, but the choice of date isn`t without controversy, as Hard Rock International last month announced that Hard Rock Atlantic City – formerly Trump Taj Mahal – would be opening on June 28. HRI and others may well feel that the Ocean Resort casino could have chosen another day and not stolen HRI's thunder.
The signage for the new venue started to go up last week, with Hard Rock Hotel & casino in eight-foot-high golden letters. New Jersey gaming regulators are meeting with HRI on Wednesday to discuss the approval for the license for the casino. AC Ocean Walk has yet to be told when their license application will be heard.
Last week HRI took on its 3000th employee in Atlantic City, and it is thought there could be 500 more jobs on offer prior to opening. AC Ocean Walk claims that when their casino opens, there will be 3200 new full-time jobs.
With two new casinos opening on the same day, there should certainly be a lot of interest in both venues, but only time will tell if these will be new guests drawn to Atlantic City by the lure of these two, or just the normal summer traffic having a look at the new kids on the block. Since 2014 five casinos have closed their doors; the casinos that have survived have profited from the smaller size of the market, and there are worries that the two new additions could negatively impact profits.
Both operators have signed up with technology providers with the aim of taking a share of the regulated online gambling market in New Jersey, but neither seems to have a firm date for when they`ll be up and running. AC Ocean Walk has gone into partnership with GAN, and HRI has signed up with Gaming Innovation Group.