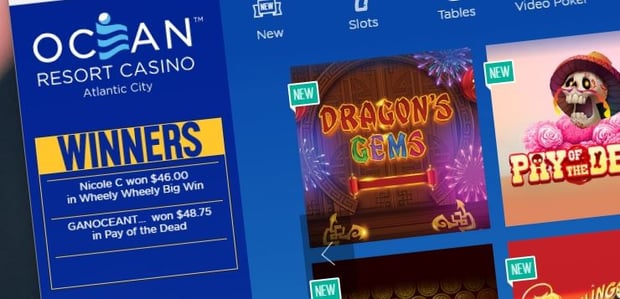 Ocean Resort Launches Online Slot and Table Game Site

Mathias Jensen

Published 22/08-2018
Another New Jersey gaming site is now up and running.
Ocean Resort Casino's new gaming website is now live. Affiliated with gaming powerhouse NetEnt, the site offers a wide array of slot, table and poker games. Already partnered with GAN, a leading game developer, the company expects to offer its full repertoire of award-winning games through the site in the coming months.
As of Aug. 14, the site had completed its full technical integration, with hundreds of games already playable. Even more games, including slots, will be rolled out in the next few weeks.
Online Gaming Further Boosts Ocean Resort
Formally known as the Revel Casino Hotel, Ocean Resort underwent a complete rebrand and renovation before re-opening earlier this summer. Along with the new Hard Rock, the two casinos symbolize Atlantic City's rebirth and the boom of gaming in New Jersey overall.
The new facility features more than 130,000 square feet of casino floor space, including 2,000 slot machines, 100 table games, a 1,399-room hotel and a 7,500-square-foot William Hill sportsbook. The property also features 165,000 square feet of meeting space as well as a 5,7000-seat concert hall.
On an increasingly crowded Boardwalk, Ocean Resort further stands out it with its online offerings.
The first step was the partnership with GAN. Certified with the highest possible regulatory standards from the UK, the company pioneered the GameSTACK software system, which gives turnkey online solutions to land-based casinos. This affiliation, along with support from NetEnt, formed the foundation for Ocean Resort's online gaming.
Ocean Resort followed that base with a push for daily fantasy games. Known as FastFantasy, Ocean Resorts game works similar to established brands like DraftKings or FanDuel, allowing players to compete with state accumulator games from professional sports leagues. FastFantasy comes through a partnership with Sports Analytics & Data, an exciting new sports tech firm that has set up gaming networks for other New Jersey casinos like Resorts.
The casino's success in the online gaming sphere will largely come down to these partnerships – and NetEnt in particular.
What Makes NetEnt An Industry Leader
NetEnt's deal with Ocean Resort continues its trajectory as a leading gaming provider in the New Jersey market, which was one of the first states to offer online betting and remains one of only a handful legalized to do so. But the company didn't claim its spot as a New Jersey leader without decades of proven success beforehand.
For nearly 20 years NetEnt has steadily increased its market share, stock price and influence in the global gaming industry. Unlike most of its competitors, the company doesn't run its own casino, but instead creates gaming software for clients worldwide. Its steadily built its reputation and now creates iconic table games and slots featuring some of the biggest names in film, music and entertainment.
That's translated to big winnings for its legion of players.
For years, the wide variety of offerings has given players a chance to take home life-changing sums. In a high-water mark for the company earlier this year, two players from NetEnt slots took home prizes exceeding €2.5m – within the same day.
With exciting new games now available in the US, totals like these should become even more common.