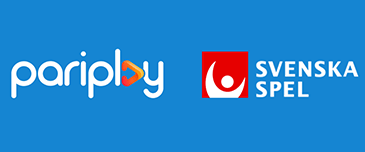 Pariplay Inks a Partnership with Svenska Spel Sport

Mathias Jensen

Published 07/06-2019
Shortly after the release of its Gold'orado video slot, which has been well received by players, Pariplay Limited have just announced a partnership that will help them to grow their business in a key regulated market.
The deal they signed is with Svenska Spel Sport & Casino, which is owned by the state-controlled gambling operator in Sweden. They are the largest company of their type in all of Scandinavia, as well as the most successful, so this is a key deal for Pariplay Limited.
Larger Audience
A spokesman for the state-owned Swedish gambling firm commented on the partnership with Pariplay Limited, saying they were "thrilled" with how things had developed and were excited to see what it meant for players of Svenska Spel Sport & Casino. They pointed to Pariplay's previous experience in this industry in addition to their large selection of games, as being key reasons behind the deal.
These sentiments were echoed by the Managing Director for Pariplay, who said that partnering with Svenska Spel Sport & Casino helped them to "cement [their] presence in the region", while moving them forward with their goals for 2019. They added that they are striving to sign deals with as many major companies as possible and to do all they can to grow their reputation and their offerings.
Exclusivity
The aforementioned deal will see Pariplay Limited provide Svenska Spel Sport & Casino with their latest slot, Lucky Vegas, on an exclusive basis. It was rolled out towards the end of May and remained exclusive on Svenska Spel Sport & Casino right up until June 11th, after which it was made available to other operators.
This allowed players in Sweden to get a taste of this exciting new video slot before anyone else and helped to cement the relationship between Svenska Spel Sport & Casino and Pariplay Limited.
More for Pariplay
In addition to moving into the Swedish market, Pariplay Limited have also made strides towards other major European markets. They recently rolled out their roster to players in Belgium and Italy, and they also already have a big presence in major markets like the UK and Germany, with plans to advance further in Denmark, Spain, Romania and Portugal.