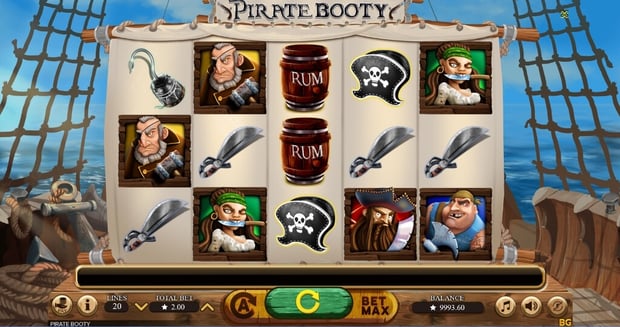 Pirate Booty Slot Sets Sail on the High Seas

Mathias Jensen

Published 20/07-2019
Booming Games Limited are coming off the back of a big release, after launching the Gold Vein video slot onto the market. But they haven't finished yet as the Malta-based innovator has readied another top title for the gaming sector: Pirate Booty. This 20-payline title takes players on a journey across the high seas as they go in search of big treasures and big payouts.
In an official press release Booming Games Limited said Pirate Booty was based on history's biggest buccaneers—wooden-legged, gold-hungry pirates who sailed, fought, and died on the oceans. They also said that it would feature symbols such as pirate hats, hooks, and plenty of rum.
Fun on the Seas
Booming Games Limited are licensed by some of the biggest regulators in the world, including Italy, Malta, Denmark, Alderney and Sweden. They recently signed a few big content deals to expand their reach, including one with Betsson AB, and they also announced the release of their Super Boom video slot.
Pirate Booty, therefore, was released at a very busy time for them and they will no doubt be looking to use that momentum to ensure this game is seen and played by operators and players all over the world.
Pirate Booty is mobile friendly and can be played on tablets and smartphones and in addition to the crisp visuals and fun theme, it also affords a number of options for players to win big.
Possibilities
Pirate Booty was described as an "action-packed" video slot that features medium to low volatility and provides a number of multipliers, wild symbols and wild reels. It uses HTML 5 technology to guarantee that it looks and plays great on mobile devices and there is also a big free spins feature and a selection of big payouts to unlock.
"Why walk the plank when you can jump aboard and plunder?" the Booming Games Limited spokesperson said.